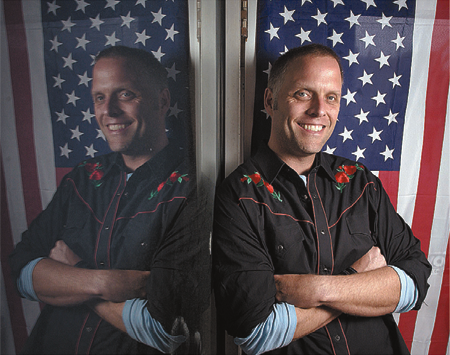 A Jester Under Fire
Comedian Reports on Wartime Misson
BUFFALO NEWS
Tuesday, May 17, 2005
Page: C1
Tom Irwin has been trying to keep the contents of his one-man show about his comedy tour of Iraq from his sisters, brother, father, mother and everyone else. Just thinking about his opening usually gives him the jitters. To say more would spoil the first of the surprises. He wants them there in his show, unpredictable, like bombs. This, the Army veteran-turned-comedian says, is the better way to show people what war is.
His brother, who has been helping him promote the 7 p.m. Thursday show in the Sphere Entertainment Complex, 681 Main St., said all this stuff about his tours in Iraq might not interest people living here in the cushion of safety that surrounds their lawns, daffodils and yellow-ribbon bumper magnets.
Irwin, 38, admits there wasn't much to laugh about in the sand and dirt and blood and death in Iraq. He flew out Friday the 13th, February 2004. A cargo plane delivered the man who grew up on the safe streets of Amherst to Mosul.
It looked oddly like the San Fernando Valley, where he now lives in an East Hollywood apartment. Sandy, dirty, but without the strip malls.
Doing comedy for the troops in Iraq, as he will explain in the show he calls "25 Days in Iraq," turned out to be heavier than telling the jokes he was used to about pop culture and California living.
"I can bet you a million dollars laughter isn't something you're going to say about war," he said.
Of course, as hard as it is for traveling comics, war is heavier for soldiers who've just seen a friend die. He and the other three he tours with for the war entertainers "Comics on Duty" always have to keep that in mind.
When one of them hesitated to go into a military hospital to see a man who had both legs amputated, the others told him, "It's harder for him than it is for you."
So figure it out. "For their first 25-day trip, they took half-hour turns to make a two-hour show. By Irwin's rough guess, they made 37,500 soldiers laugh at mess halls, from the back of a flatbed truck, basketball courts, a boxing ring and a big crowd on an air base in Kuwait.
To get around, the comedians flew at night in helicopters, the war's taxis. They slept in tents. It is now the only kind of camping Irwin is willing to do after serving for two years worth of camping missions when he enlisted in the Army as a 19-year-old on spring break in 1988.
Back then, he just wanted to get on with life and his dream of being a comedian. He figured if the military -- not his parents -- paid his tuition, he wouldn't have to worry about grades. After the Army, he finished at the University at Buffalo. He worked his way up from his start at a Hertel Avenue comedy club, where a minute of jokes left his shirt sweaty and stuck to him like paint.
Five years or so of doing comedy in L.A. -- his first marquee billing came just below the $5.99 basket of fried shrimp -- and his Iraq journeys began.
A rocket landed next door while the comics were onstage in the marble ballroom of Saddam's palace. Irwin stood on stage, the most scared he'd ever been, while the soldiers ran out.
"We didn't know what to do. It was just so frightening," he said. "I didn't know which way to run."
In the crummiest place he went to, a base called Normandy by the Iran border, the steps of the building where they slept were blown off. It was like a dusty dirt town in the old West, but with Middle Eastern arched windows.
The place was too dangerous for a military supply store. The soldiers hung their laundry to dry on trees. After the show, comics shook soldiers' hands dirtier than one bath could fix.
One man there showed him a stack of videotapes he kept under his bed. He couldn't bear to watch the moving pictures of his daughter growing up without him.
Irwin had to work to keep cool and hear stories like that. "I don't want to cry in front of these people," he said.
He worked out jokes as he toured, taking notes of his observations about men and women bunking together and the difference between the regular Army and the reservists.
The humor he came up with doesn't work on people who aren't soldiers. He couldn't get a radio interviewer to laugh at the one about how flying in the old helicopter is fine for everyone, except Iraqi sheepherders. The soldiers crack up, because they know how fast the sheep scatter.
"You're one of us," some laughing soldiers told Irwin. "You can be the next Bob Hope."
At the end of the shows, the men and women thanked Irwin, even though he thought it should be the other way around. But a master gunner sergeant explained to him that the jokes were a tonic that lasted longer than two hours. "Your show doesn't stop tonight," the soldier said. "These are things that give people strength for months afterwards."
As he walked away from the soldiers, he was always careful not to say, "Goodbye, see you later." "You just say, 'Stay safe. Keep your head down.' And you move on," he said.
After one final show to 20 on a Navy pier in the United Arab Emirates, Irwin got home to his apartment in East Hollywood. It was during a controversy about a network news war special. He heard some stations were refusing to air the show, thinking that its decision to list the war dead by name was in bad taste. "Now if that's not making it on the air, we've got bigger problems than I thought," he said.
That was the horrible catalyst for Irwin's show.
He'd met the people who were dying in Iraq. They were more than nameless numbers.
"What are you going to do?" he said to himself. "Are you going to wallow in it? Or are you going to make a difference?"
For three months, Irwin wrote on his computer. The curtains in his apartment were the first to listen to what a person learns while getting soldiers to laugh in the midst of war.
He rented a theater and opened the show in October at the worst possible time. The election and the World Series were his competition. He had to put on a TV so audiences could still watch the news. It worked. The run was extended another month. The last performance sold out, just before he left for Iraq again.
Now, he dreams of taking "25 Days in Iraq" to Broadway. Before that, he has Buffalo.
A week ago, he came here from Los Angeles to get ready. He was curious to see how it might feel to finally have his name on the marquee in his hometown -- one of the gifts life gave him after he got out of the Army alive during the Cold War years.
Irwin looks like someone who was once a soldier: 6-feet 4-inches, a chain on his wallet and hair cropped to a thin layer of blond-gray fuzz.
For the first time, his entire family of seven -- including the sisters from Argentina and Ohio -- would be catching his act. So would the East Aurora wife and Tonawanda parents of a soldier who died.
Irwin says his decision to join the Iraq tour almost killed his mother. When he called with the news, his mother fell silent for ten minutes -- crying, he thought. He left and she started keeping his picture on the nightstand. "It's like you're dead even though it hasn't happened yet," his brother said.
Two more East Coast stops after Buffalo's show Thursday, and then Irwin will fly to another comedy tour in Afghanistan.
He tried not to tell his mother he was going, but somehow she found out. He hates to make her worry, but he says this trip won't be his last. He'd rather not go. He wants to be home safe. He doesn't know what it will take to make him stop. But making soldiers laugh in the middle of a war is a hard thing to give up.