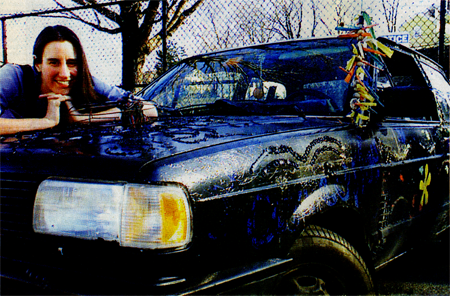 METAPHOR ON THE FLOOR
Eastie's Barbara Michaels has looked at the black pain of loss and the sunny promise of renewal. So has her volkswagen.
BOSTON GLOBE
Sunday,March 31, 2002
Section: City Weekly, Page 1
Barbara Michaels declares that the black phase of her life is over. She looks out the front door at her black car and decides to walk out and see what would happen if she started pulling off some of the black stuff.
She'd been thinking this cold gray afternoon might be the day to begin unblacking the car. She wasn't sure until now. She peers down at the black swan hood ornament. That she'll save for later.
Instead she yanks a string of black beads glued to the front hood. The yellow and red paint underneath comes through. She peels a flat rubbery flower, another necklace, then another flower with pink on its underside.
"I'm proud of myself," she says. At 31, she is marking change. More than a year has gone by since her breakup with her boyfriend of eight years. After he left her for the woman who gave her the swan ornament, she spent nine months with the car she'd painted black to mourn her loss. That is long enough. A fog has lifted.
People do all sorts of things with cars. They slave on engines. They paint flames. They low ride. In East Boston, however, the car is a metaphor for Michaels's very existence. Bit by bit, the 1991 Volkswagen Fox had been reflecting her life ever since she bought it used and white from a dealer's lot seven years ago.
Bostonians may have seen the car in one of its permutations. Two years ago, when Michaels lived in Jamaica Plain, friends helped glue and paint it. One friend, George Anastos, stuck a plastic hippo onto the roof, amid a pool of blue beads. Back then, the swan ornament gleamed silver, surrounded by a blue-red-yellow-green color riot and patterns of poker chips, glass stones, computer keys, and software disks.
The antenna was tied with blue, red, and yellow plastic ribbons. Red upholstery fringe was glued to the outside of the door. One window was rimmed with cloth flowers. Below a door there was a splotch of small plastic cups that looked like half eggshells. On the trunk was a fan of toothbrushes and a ship with a crew of Pez-candy-dispenser people. There were 45s of Roy Orbison's "Pretty Woman" and John Denver's "Sunshine on My Shoulders." Atop the roof: an Astroturf platform to stand on, while reciting poetry.
Phone in the fish tank
In Maine, where she bought the car when it was white with little red pinstripes, she had her first real job with decent pay, and a boyfriend from Brown University followed. She was riding what she called "the trajectory" - an orderly sequence of college, job, perhaps graduate school, and eventually, marriage.
Back then, she'd been experimenting with art, staging her own personal exhibits in her Portland apartment, putting a phone in the fish tank, hanging bicycle wheels from the ceiling, making color squiggles with oil pastels.
In time, with the help of artist friends, the car went from white to wild. After moving to Boston with her boyfriend, enrolling in the Massachusetts College of Art, she decided to create an art car like those in an art car book and movie she'd seen.
No surface of it would be left unadorned. She and two artist volunteers started work in 1999 on Mona, nicknamed for the moaning "Ahhhhh!" the car made when the fan flipped on.
Her car was to be the model to display in hopes of a grant. They sanded the white paint and glued on keys and plastic doodads Michaels had been collecting. A Pez battleship, too.
The car, her boyfriend said when she was done, looked like it had been run over by a circus. "It was kind of like an explosion of energy to the dream that I had," she said.
They got a $1,200 start-up grant. She used some for the paint and glue, and she put notices in the local papers asking for people who'd like to help create art cars. Some applied, but when she didn't get the rest of the grant, the project she imagined petered out. Yet when she drove around in her wild car, so many people smiled, she'd smile back. Once someone left her a gold dollar coin in a box glued to the trunk. Michaels began to think, "It's like a mental health social service that I'm performing here."
After a day of doing her regular job at the Jamaica Plain Arts Council, coordinating a series of openings for local artists, she'd go out and do evening poetry drive-bys. She'd stop and a poet friend would climb on her Astroturfed roof, recite a short poem or two and people would applaud. At a local parade, she could hear the kids say, "Pez, Pez, Pez . . ." as she went by. It was exciting until a morning in November 2000.
Her boyfriend was gone.
Platform for truth
The next month, she kept a previous engagement with the First Night parade on New Year's Eve in Boston. Some people recognized her, shouting her name and yelling, "JP" for her then-neighborhood. She went by slowly with all the other floats, stilt-walkers, and giant puppets, from the Hynes Convention Center to the Common. As she drove, she cried some, because she wanted to call her old boyfriend and tell him how great this was, and she couldn't.
She knew something about love by then. One day at Copley Square, she climbed onto the platform on the roof of her car and told the gathered crowd what she had learned and it was this: If one of two people in a relationship doesn't feel free to say what's on his or her mind,
"the whole ship's going down."
It wasn't until she'd moved to a cheaper apartment in East Boston - where some people sometimes frowned at her car and vandals broke off the toothbrushes - that she decided to cover up with black paint the colored-car-boyfriend part of her life.
For three days last June she worked by a curb in Cambridge. A friend's young son kept asking, "Are you really going to paint everything black?" For him, she left a few things unpainted - a smiley face by a door, the red-faded-to-pink upholstery fringe. She painted slowly, with the one-inch brush she'd chosen. She wanted this to take a long time.
Black for the green leaves she'd glued with silicone to the windshield wipers. And black for the ship where the Pez people once stood.
If this could last, she could stop thinking for a while about her sadness at getting off that trajectory. Dab, dab, dab, dab on the swan. It was soothing, like stomping on ashes left after a campfire. Now everything on her car had a covering. Something to calm it all down the way she needed. She painted a phone number on a bumper sticker into letters, "Die Life."
When she was done, it did look like death. It was overwhelming. The black was shiny and new and very bright.
Swan song for the past
On a recent Saturday afternoon ride from Eastie to Saugus, her black car still drew attention - and so did she. For this trip, Michaels had put on lavender socks, green velveteen pants, and a pale purple shirt with a red shirt underneath. Over it all she had on a brown corduroy jacket and a fleece hat with rust material on one side and camouflage on the other. The top of the hat was shaped like two hands and she was so tall - 5 feet 11 3/4 inches - that sometimes she had to adjust the hat so it didn't squish into the ceiling.
When she and her friend, George Anastos, arrived at his parents' home for a visit, he suggested that mannequin arms and legs might be a good new look. Michaels listened respectfully. She had been thinking maybe stripes.
She hadn't expected to start pulling things off the car right away. But when Michaels walked out of the house, Anastos' father followed with a razor knife. Here's how they began:
The father tries to loosen the Pez battleship. Too hard. He pulls a necklace off instead and whistles. He and Michaels examine the objects, make a choice and pry off poker chips, flowers, beads. Anastos watches. "May I?" he asks before calling to the door. "Ma, get a screwdriver and put your coat on. It's therapeutic."
Michaels leans over her car. She pulls the leaves off the windshield wipers.
Anastos likes the sound the things make when they come off. Holding one of the black beads, he says, "Would you like a Junior Mint?" He oooohs over blue he finds under something.
"I want it to be OK. I want it to be positive," Michaels says. As she pops a key off the hood, she thinks about the past and going forward. That's when she heads for the swan.
"OK, here she goes." Then to the swan, "I want you to be gone now. Bye, bye." She twists. It comes off in her hand and she slips the bird into a plastic bag.
Anastos lets a poker chip fly. His mother calls out that tea is ready. They ignore her. She calls again. Tea is being poured. Her husband pries off a computer keypad while a neighbor across the street yells from his doorway, "Taking apart your masterpiece!"
On the outside, patches of color show from beneath the black - a sunburst of red and yellow where swizzle sticks used to be - and the car looks like a bruise.
And that's fine. It can look like that, Michaels says, because that's the truth.