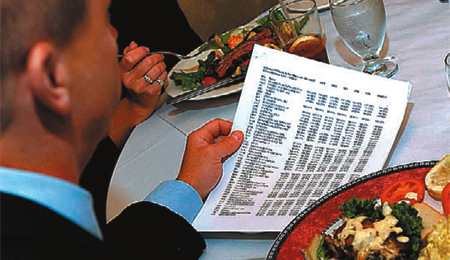 Breaking bread for business:
Where to go to make deals work
BUFFALO NEWS
Sunday, August 27, 2006
Section: News Page: A1

So you're in business and have a big deal to close, or maybe you're trying to make a good first impression with a client, or perhaps you're the one appointed to deliver some bad news.

Where do you go?

Some head to quiet dining rooms with Wi-Fi.

Others try the traditional power lunch at the Buffalo Club.Still others head to calming lake views -- especially if it's bad news.

Most important, they go to spots where the wait staff won't interrupt.

For financial planner Patrick Allaire, the place is Protocol. Just off the Thruway on Transit Road in Amherst, it has plenty of parking and a Cajun tuna steak sandwich that clients crave.

One meal Allaire remembers helped sell a client on his services. The owner stopped to say hello and recommended a good wine. The white tablecloths and pine paneling have an understated elegance that relaxes people. Tables are spaced out enough to keep money talk private.

"It created an atmosphere that was conducive to a successful business meeting," he said.

Skillful selection of business dining spots leads to client friendships that stick, said Robin Jay, a professional speaker and author of "The Art of the Business Lunch."

"If you waste a meal slot eating alone, you're not helping your business," she said by phone from Nevada, where her former radio ad career sent her on some 3,000 business lunches.

Different restaurants have different advantages. A place with dim light has an intimate feel -- one Las Vegas spot draws curtains around its booths for relationship-building client conversations.

The unusual, such as a sports bar bowling alley Jay once tried, can create memories that bond.

People who do business in Buffalo and its suburbs have their own mix.

For Tim Talley, who leads a design division at New Era Cap Co., it is the dinner menu that matters for relationship-building conversation. He chooses from such places as Tempo, downtown, or Hutch's, near Gates Circle that have the elegant snap of Manhattan, right for treating major league baseball contacts and far-away suppliers who come in from Asia.

"Those are key places when we have major folks in town," he said before recalling one client who loved the Chop House. "He would have been sorely disappointed if he had gone home to China without cutting into a steak that was two inches thick."

And, for a woman who has been lending money to entrepreneurs for a quarter century, the perfect stop for a business meal depends.

Banker Deborah DiMatteo calculates the variables, as people admit they do when bottom-line success depends on well-chosen meals.

"I do think strategically," said DiMatteo, a vice president at M&T Bank, who manages about $40 million in loans.

An Amherst client coming downtown for an informal catch-up meeting may have a yen for city hobnobbing. So it's lunch at Chef's, the Seneca Street restaurant where the mayor and other politicos can be seen in bibs, dining on mozzarella-smothered spaghetti.

A new customer, lured away from another bank, may get pan-seared marlin with mango chile glaze at M&T's top-floor private dining room with a lake view, fresh lilies on the table and a Charles Burchfield watercolor on the wall.

"That's when you really want to make people feel special," she said.

Local lists go on. Bustling places, such as the Original Pancake House on Main Street in Williamsville, are good for running into people who might be reminded to get in touch about a deal.

"I can get three phone calls taken care of in a lunch hour," DiMatteo said.

Quieter spots with separate rooms are right for avoiding competitors. Buffalo's Main Street Bijou Grille lets DiMatteo retreat to a window seat if she needs to after a glance into the main dining room.

Booths beneath slow-turning ceiling fans at Pearl Street Grill and Brewery work for going over the private numbers in financial reports.

Bacchus Wine Bar on the Chippewa Street strip or Nektar on Elmwood Avenue are good ways to show out-of-town computer pros the city scene for 20- and 30-somethings, said Thomas Kucharski, chief executive officer of Buffalo Niagara Enterprise, which recruits businesses to the region.

Kenmore's Asian-fusion restaurant Tsunami has an owner-chef who visits the tables and is where Kucharski goes to show out-of-towners how the suburbs here have their own cool culture. "It's kind of this neighborhood kind of place that's really high end," he said.

Vegetarians and young people starting their careers favor Cafe 59 on Allen Street for its $6 roasted eggplant sandwiches, free Wi-Fi and counter views of the Franklin Street corner, not far from Robby Takac's recording studio and downtown law firms.

"They have unsweetened soy milk," said Liz Seramur, who likes the quiet of the place for working on her freelance photo research from her laptop.

Kucharski, who has some three to five meals a week as he tries to sell visitors on the idea of moving their business here, has found the perfect seduction inside the Buffalo Club's collection of bars and dining rooms in what was once a Delaware Avenue mansion.

The walls are crowded with oil paintings of grand dames, a lion, boats and regal old men. Guests can bowl, play billiards or swim in the tiled pool and even have lunch in the locker room. One evening, the club seemed to work perfectly when visitors stopped at a bar framed in dark burnished wood where young entrepreneurs watched a Sabres playoff game along with older captains of industry.

"This place is cool because what we're trying to sell is that we've gone from an industrial economy to something that can compete with the global marketplace," Kucharski said one morning as he ate breakfast oatmeal, a glance away from a stained glass buffalo and the club's 1867 founding year.

Some prefer doing business at less rarified places. Consultant John Wynne goes for a simpler style. He avoids tablecloth restaurants.

"Those take too long to eat at," he said from a faux wood diner table at DiTondo's. "We're practical people here in Buffalo." This Italian restaurant less than a block away from Chef's has its own crowd who come for $8.25 orders of spaghetti with chicken Parmesan.

"It's a gathering place," he said. "The business community in general is not that big in Buffalo. Sometimes you run into opportunities."

While he prefers the speed and good diner and pub food at the city's Towne Restaurant and Colter Bay Grill, he goes to the waterfront for the hot-dog-french-fry menu at The Hatch when he has to tell someone bad news about an order that didn't go well.

The lake view and the sea gulls swooping around remind people that they're lucky to live in a beautiful city. This is what matters, more than the problem before them.

"You got something really hard to tell a guy . . . It's a great view," he said. "It calms people down."