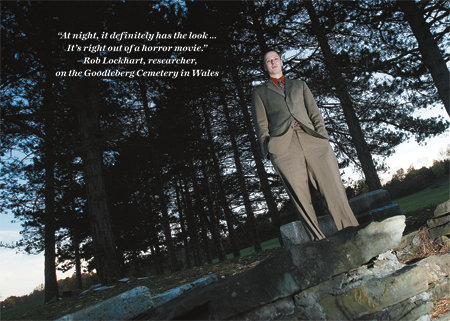 Reputation haunts cemetery
Despite Internet hype, town officials in Wales find nothing supernatural about Goodleberg Road site
BUFFALO NEWS

Saturday, October 27, 2007
Section: News Page: A1
In the daytime hours, the Goodleberg Cemetery has a striking, unhaunted look. Tall pines rim the mound of cracked and faded headstones from the 1800s. When sunlight bathes the roadside clearing, the graveyard stands out for its beauty.
Nighttime is another story. When moonlight casts shadows on the old stones, people seeking ghosts seek out Goodleberg Road in Wales.
Hell hounds with vinyl black coats and beaming red eyes appear, or so the stories claim. Some say spirits of babies buried by an abortion doctor rise as does the ghost of a woman, perhaps the one murdered in a still-unsolved 1948 case. "At night, it definitely has the look. . . . It's right out of a horror movie," said Rob Lockhart, the Walden Galleria jewelry store manager who works part time giving Goodleberg lectures and conducting tours and folklore research for Haunted History Ghost Walks.
For decades, the cemetery's reputation for haunting has drawn local teenagers, who are reported to combine drinking with skinny-dipping in the pond at the far edge of the cemetery.
In recent years, the curious have come from Buffalo's suburbs and even out of state.
From 10 p.m. to 2 a.m. last Halloween, Wales Supervisor Rickey Venditti, joined by a highway supervisor and a sheriff's deputy, turned away about 35 cars. This week, the town voted to post "No Standing" signs and to ticket and tow those who try to park along Goodleberg Road.
"No one was there to bring flowers to someone's grave," Venditti said of last Halloween's visitors. "The sad thing is, it's sacred ground, and people's families are buried there."
To him, there's no question about whether Goodleberg is haunted or not.
"It's just a plain old cemetery," he said. "We really wish people would stop coming."
But the stories have fueled Internet postings by ghost hunters and on Wikipedia. This, Venditti contends, has helped make Goodleberg a destination of sorts for people looking for a fright or a good time.
Web searches of Goodleberg turn up night photos of luminous wisps as evidence of ghosts and accounts of a "Dr. Goodleberg" and a 19th century abortion doctor.
"I almost wish I had never written anything about it," said Mason Winfield, of the Town of Aurora, founder of Haunted History Ghost Walks and author of "Shadows of the Western Door: Haunted Sites and Ancient Mysteries of Upstate New York."
Winfield, who is now working with Lockhart on a book about War of 1812 ghosts, said he collected material about Goodleberg, hell hound sightings and other more-standard ghosts of little girls in white dresses by interviewing more than 100 local people. But Winfield doesn't take his tours to the cemetery.
It has so many tipped-over and broken gravestones that people say it is the work of ghost-seeking vandals and not just the passage of time.
"The ghost hunters go out there a lot," said Winfield, who said he has never had a haunted experience at the cemetery. "I don't see ghosts. I may have seen two in my life, but it was never when I was looking for them."
Scott Tanner, 20, of Orchard Park, who went to the cemetery about four months ago with friends, reported a flash of light by the road and hearing a screeching, hissing noise.
"It sounded like it was coming toward us, so we just took off and got out of there," he said. Two years ago, a college student looked Jean Allen straight in the eye and asked whether the cemetery was haunted.
"I said, 'of course,' " replied Allen, who has lived in Wales almost all of her 75 years and has been historian for the town of about 3,000 people for three years.
"He wanted to be scared, so I scared him," she said of her fib. "It's still not haunted. I don't know what it is. It's somebody else's imagination. It's a normal cemetery. . . . As one person suggested, the name sounds spooky."
Until this month, she had never walked through Goodleberg Cemetery, which didn't get its spooky reputation until the 1970s. To her, it always was just one of nine country cemeteries around town.
On the way to the cemetery on a bright October day, Allen drove around to show off the town she loved -- the hill where she tobogganed, a low watery spot where she ice-skated and doors she knocked on with her mother when they were recruiting pie makers for the firemen's picnic. She is aware of the roots of some of the stories linked to the cemetery. As a teenager in the 1940s, she knew about a doctor with a Buffalo practice and summer home on Hunter's Creek Road, once called Wales Centerline-Holland Road, about two miles from the cemetery.
"The local gossip was that he did perform abortions," she said. "This is all gossip. That was back in the '40s. That has nothing to do with the Goodleberg Cemetery."
She passed the doctor's place and pointed to the chain-link gate. On the same road lies the town's connection to an infamous unsolved murder -- part of some Goodleberg stories now in circulation.
In August 1948, Helen Lindeman of Kenmore disappeared after leaving home to buy milk, according to news accounts. The next month, a kneecap and severed forearm were found on the road. Later, her husband, a dentist, identified her when a torso and head were found about 25 miles away, near Ischua.
"They found her bones, and they assumed it was an abortion" performed by the doctor, Allen said of the townspeople. "Stories get started because there's assumptions. Half the stuff that you hear, you should not take too much stock in. . . . I like facts."
After finally turning down Goodleberg Road -- easy to miss because it has no street sign -- she got out of her van and walked up the mound.
This little knoll, with a forest of orange and yellow fall color in the distance, was peaceful.
The old bones here are probably connected to many thousands of people. As the wind whooshed through the pines, she looked out toward the skinny-dipping pond and made a guess about the haunting stories.
"If you were standing here at night and that wind was blowing," she said, "you would think that you heard ghosts."