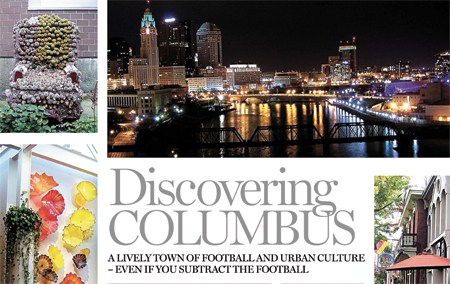 Discovering Columbus
A lively town of football and urban culture -- even if you subtract the football
Buffalo News

Sunday, May 16, 2010
Section: Travel Page: F14
To go back to Columbus, my temporary home for a spring, off-season semester, was a quiet thrill.
I longed for more than I could fit into a mere two days. On this return trip, I wanted to go where I hadn't been -- the German Village and Franklin Park Conservatory with Chihuly glass sculpture amid the plants. And I didn't want to resist the nostalgic pull of old haunts.
After eight months of work at the Ohio State University two years ago, I had discovered that a person doesn't have be a student to enjoy the campus and its offshoots. I saw concerts of Sousa music and a thin, exotic Chinese stringed instrument, and an outdoor showing of Orson Welles' "Lady from Shanghai" -- with free popcorn and cones of gourmet Jeni's ice cream flavored with melon and wine.
I fell for the place.
This city, a five-and-half-hour drive from Buffalo, has more than twice Buffalo's population and it feels action packed. The Scioto and Olentangy rivers run through and the big Ohio State campus, close to downtown, radiates cool: Parks with roses by the hundreds and paths along the water and shops, surprising restaurants and neighborhoods with distinct personality, such as the arty "Short North."
High Street, an Elmwood-like boundary, became my home base. With shops and restaurants and crowds of people walking on one side, the campus on the other side, it extends a wide and open invitation.
Stroll across Ohio State's grassy, tree-clustered open space -- the "Oval" -- and you find the fountained Mirror Lake and the newly restored Thompson Library, with its lofty, elegant reading room, a mod rival to the grand one on Fifth Avenue in New York City.
Arrange a conventional tour at www.osu.edu/visitors and try this map, www.osu.edu/visitors/WalkingTour.pdf. Stop and see where the school's mix of classic old brick buildings and modern architecture meld into one at the John Glenn School of Public Affairs, where there is an exhibit in tribute to Ohio's astronaut senator. A traditional columned 1902 building -- Page Hall -- was gutted and transformed with a protruding, three-story glass box addition.
Now the first floor displays of memorabilia -- Glenn's boyhood trumpet, newspapers, fan mail queries ("How does it smell in space?") -- are framed by black stone embedded with metal constellations and the paths of Glenn's space trips.
In one touch-screen video Glenn, now 88, talks about life and adventure in a time when space exploration was a new and stunning science marvel. Take the elevator to the third-floor library to see the plain gray, joy-stick-like hand control Glenn used on the Friendship 7 in 1962 -- "The free world's first manned orbital flight" -- when the automatic thruster failed.
>Hints of cool
Since this trip was part vacation, I felt free to settle my longstanding curiosity about the contents of the Cartoon Library & Museum in the angled glass building cluster next door. Steps through a doorway led to a basement entrance with a big, orange Garfield cat sculpture grinning on a bench. Inside, I happily happened upon an exhibit of the old Sunday paper comic artist Winsor McCay and his fairy tale story of Little Nemo and his walking bed, which I examined in their original full-page, circa 1910, glory.
It's housed in the Wexner Center for the Arts (wexarts.org), one of my top 10 favorite museum-like places. Called a "research laboratory for all the arts," it is an art gallery with stages -- and a cool Apple store gift shop in the windowed basement, along with a cafe that serves a $5 breakfast burrito with turkey sausage and salsa and $8 bowls of brown rice and tofu.
For cultural gamblers, I recommend a semester-tested technique. Buy a ticket for whatever is showing at the Wexner, even if you've never heard of it. That led me to an amusing performance piece about a seven-year-long world journey by the British duo "Lone Twin" and one of the most evocative, elegant folk rock concerts I've ever heard: Bon Iver before its 2008 "For Emma, Forever Ago" made National Public Radio's list of 50 most important recordings of the decade. The album's song series, when played live on stage, had me running to the ATM after the show for cash to buy a CD.
And that's how Columbus is: A gentle tip-off to what's cool and happening and possible in the world, without being superior or bossy about it.
Often, I pulled over and wandered into new places when signs looked compelling. I followed a fanciful pink Patty Cake and found a vegan bakery with homemade ginger granola and rich chocolate cupcakes (3009 North High, www.pattycakeveganbakery.com). Another cool sign down the street at 169 North High was a shop that seemed to be its cousin: Wholly Craft! (www.whollycraft.net). Its collection of crafty gifts by local artists ranged from felt iPod cases to stationery, funky jewelry and two owl T-shirts, now in my dresser drawer.
> Dining delights
Food was one of the delights of Columbus. For late-night bargain dinners, I routinely feasted on the garlicky, saucy gyro sandwiches at the Blue Danube, or "the Dube," at 2439 North High, a Greek diner-esque bar restaurant, where gazing up at the wild ceiling tile art is part of the fun. Dick's Den is nearby at 2417 North High, a dark paneled collegiate style place with good beer and live music, where I once caught a band with a rollicking tuba.
For fancy, creative gourmet food and a seductive old front porch, the restaurant Alana's, 2333 North High (www.alanas.com), wins with its sweet menu promise of a $39 charge for "excessive whining;" "cream of a million mushrooms with fresh truffles," $8; cassoulet of duck with "lavender white beans," $22; and a vague-yet-memorable martini special that involved basil.
In either direction from the campus on High, the street dissolves into more mixed, less-university-ish yet distinctly different neighborhoods: In the Short North and Beechwold, there are the Northstar restaurants, www.thenorthstarcafe.com.
They capture simple, economical urban elegance -- aluminum chairs and spare booths, where I once saw a group of women knitting and talking. Rows of latest-issue magazines -- from design "Dwell" to Francis Ford Coppola's story-filled "Zoetrope" -- went well with an organic beer and thin-crust veggie pizza with sunflower seeds and jalapenos. Stop in at 4241 North High in Beechwold, and you will be close to the 18-mile paved Olentangy Greenway Trail -- aka Olentangy River Bike Path -- has an entrance a few blocks north. Turn at Henderson Road and park near Whetsone High School and follow the trail along the water, through forest patches and gardens. For details, www.centralohiogreenways.com/OlentangyTrail.htm.
You also will be near the 13-acre Whetstone Park of Roses, 3923 North High, with 400 some varieties in reds, whites, peach mixed with yellow and more pinks than there are ordinary names for. Inspiration for park-bench revery and digital self-portraits.
>Art and butterflies
For plant marvels no matter what the weather, the Franklin Park Conservatory (fpconservatory.org, 1777 East Broad St.) mixes flowering plant exhibits with glass shaped like neon sea creatures -- the Albright-Knox has some -- by the famous Seattle craftsman Dale Chihuly.
To see his spiky blue rods shooting up from the ground between glassed wings was part of the surprise that came with a step into each section, like a scavenger hunt amid tropical and desert plants, creations hung from the high atrium ceilings, nestled between plantings and as skylight art. The "hot shop" features daily glassblowing demonstrations. Young blowers toil by the furnace making globs of liquid glass into vases and happily answer questions from the curious around them.
(A butterfly exhibit goes until July 4 and features more than 100 species from around the world.)
Less than two miles away, at 77 Jefferson, is the Thurber House (www.thurberhouse.org), the restored home of comic writer James Thurber, author of "Is Sex Necessary?" among many other works. I loved the tour of the place where the famous cartoonist and short-story author spent his early 20s in the 1910s, a few years before launching his career as a Columbus-Dispatch reporter. His bedroom has a desk with the typewriter he used at The New Yorker and a closet with wall drawings signed by visiting writers. For eats nearby, consider the North Market (59 Spruce St., www.northmarket.com). Vendors specialize in produce, cheese, meats, takeout-ready buffet Indian, Italian, sushi and a bakery where I had one of the hottest, best, most cinnamony rolls from a tray just out of the oven.
The Short North along North High is another beloved Columbus stop, a downtown neighborhood of galleries and shops just "short" of downtown. You will know you are there by the amusement-park-like metal arches over the street.
On the first Saturday of the month, places besides restaurants and nightclubs stay open late to debut the new for a "Gallery Hop." It's fun to see bicycle taxis cruising for customers and crowds and street performers along the sidewalks. This is a good place for wandering for the fun of stumbling into art at galleries and unusual shops -- from a Segway dealer to a lampshade store with a window full of curvy, straight, big and small options, to the On Paper stationery shop with letterpress cards and big $5 maps of the United States.
I've tried the local microbrew beer and cupcakes -- red velvet is a specialty -- at the tchotchke-filled Surly Girl Saloon, and once had a lovely pasta dinner in the intimate garden courtyard of Basi Italia, www.basi-italia.com, 811 Highland St., which is quieter and off the main drag.
And, Jeni's ice cream, a local icon for its far-out flavors -- cherry goat cheese, Thai chili. An unflaggingly patient staffer allowed a dozen small-spoon tastes before I settled on one scoop of root beer and another of smoky chocolate, $3.75. Rich, fabulous. Worth a stop just for that.
>German touch
German Village is the other iconic Columbus neighborhood. In the heart of downtown, it was settled by Germans in the mid-1800s and has since become a restored neighborhood of red brick buildings, houses, restaurants and shops with an intimate centuries-old feel.
Katzinger's deli, 475 South Third St., is one neighborhood entrance at the Livingston Avenue intersection. The menu of classic-with-a-twist sandwiches was daunting enough for me to get help from the guy behind the counter. Reuben was a top seller, but my eventual pick, "No. 66," let the subtle taste of rosemary roast beef come through with lemony horseradish, real green lettuce and challah bread. Perfectly simple and good.
For dessert, I took a walk until I was drawn in by a sleek, airy, spare "dessert boutique." At Pistacia Vera, 541 South St., I spent about $1 for a pale green, nutty, chewy pistachio meringue "macaron" cookie, which I ate at a small marble-topped table, feeling old-fashioned and modern at the same time.
At an OSU friend's insistence, I stopped in The Book Loft farther down the street.
"The first time you go there," he said, "it feels like exploring." And it does. Walk through the brick garden path to the front door entrance of the long, narrow building, where there are maps to navigate the four labyrinthine sections from upper west wing -- general fiction -- to lower east wing of astronomy and pop-up books. It was like being inside a tightly packed ship. I walked out with an illustrated version of E.B. White's "Elements of Style" writing guide that I had forgotten I wanted.
On my drive out, I pulled over at a friendly looking storefront where two men sat outside chatting. It was the Metroscap German Village Gallery (177 East Beck St., www.metroscap.com), where I was drawn into friendly conversation with the proud father of photographer Jason Wilson, whose work lovingly portrays the city with water reflections, neon and old building beauties in black and white.
I had to leave without revisiting one of my last, favorite stops from my temporary Ohio life. It is a little more than an hour's drive to the swimming lagoons, waterfalls, forest paths and surreal rock formations of Old Man's Cave hiking trail at Hocking Hills State Park, on State Route 664. One of the first sights is a deep sideways crack in a vast stone expanse, the cave where an old man is said to have lived in the 1700s. That is followed by a waterfall pouring from a lip ledge, swooshes of stone that looked like petrified water waves and trees growing through rock walls and a crack in a giant boulder. I could see how this inspired the surreal landscapes of "Bone," the kids adventure comic by OSU alum Jeff Smith.
For me, the coolness of Columbus is its outer possibilities and interconnections. The caves and storytelling, gardens and glass blowing, and century-old Sunday paper comics. It left me wanting another trip. And more serendipitous stumbles.