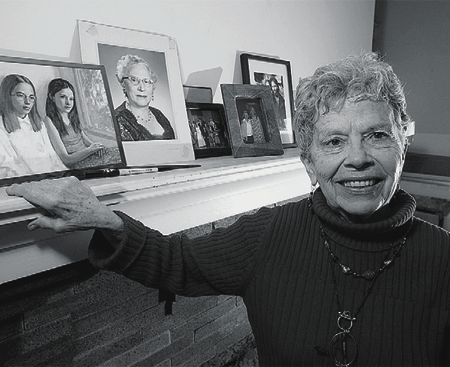 A DAUGHTER'S PICTURE OF HER MOTHER COMES INTO FOCUS
Buffalo News

Sunday, May 08, 2005
Section: LIFESTYLES Page: G2
As Buffalo artist Catherine Parker grows older, she is more inclined to paint cattails swaying in a fanciful way that some compare to the style of her famous father, Charles Burchfield.
She no longer resists drawing on the same spirit she shares with the playful man she adored.
While her giant canvas of a marsh dissolving in flames hangs above the fireplace, traces are less obvious of the stern mother whom Parker learned to admire and care for as the decades went by. One afternoon, she retrieved Bertha Burchfield's black-and-white photograph from its box and set it on the mantel by the cattail painting.
Her mother, who died in 1974, seemed regal in the beaded necklace and matching earrings her husband gave her when money for his moody landscapes finally started coming in. Her mother -- a fundamentalist Lutheran of such strictness that her children were wary of her occasional slaps -- stares out through silver-rimmed glasses with a faint smile.
"People don't give her enough credit," Parker said. "They don't credit her as playing a role in my father's success."
Her mother would look at her father's paintings, now owned by museums and the occasional celebrity, and notice that something needed fixing in, say, the left-hand corner.
"Without any training at all in art, she was my father's critic," said Parker.
Her mother had been working as a visiting nurse and planning on a single life when she met the artist -- who was six years her junior -- and married him at 35. After moving from Ohio farm country to Buffalo, it was she who decided the work stress that came with his job designing wallpaper was bad for his health.
She made him quit so he could paint full time -- a move Parker now recognizes as brave for a woman raising five children.
Her mother stepped in when her father became deeply depressed. "Sometimes I think she scolded him out of it," she said.
When Parker was 19, she remembers deciding to look after her mother. On break from art school, Parker, the fourth daughter, remembers comforting her one night when she wept in worry about the drunkenness of her brother, the youngest.
"I didn't tell her things she didn't want to hear," said Parker. "I was pretty wild when I went off to art school, and she never knew that."
Her mother's reason for living seemed to die with her father in 1967. She began to lose her sense of things. It was a kind of dementia that worsened until Parker asked her far-flung siblings if she could be the one to move her mother to a nursing home in Texas, near where Parker once lived with her ex-husband and children.
"I wanted to have as few regrets as possible when she died," said Parker.
To think of her mother now, 30 years after she died, she seems gutsy and strong. Her favorite memory of her is better than the old black-and-white photo, which seems too pale for her mother.
One afternoon a few years before she died, Parker's children went sailing while their visiting grandmother sat waiting by the shore. She let the wind blow through her hair as she gazed out over the lake. It is that look of total peace that Parker likes to think of now when she thinks of her mother.