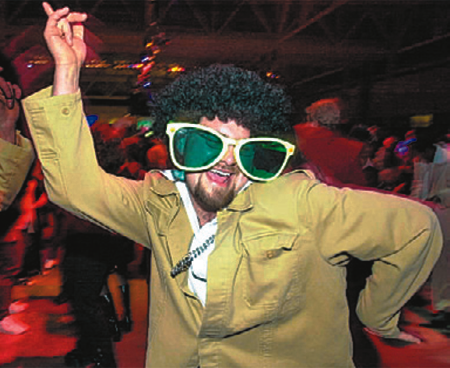 People are gearing up to boogie down in style at the World's Largest Disco
Party hype is reaching disco fever pitch
Buffalo News
Friday, November 23, 2007
Section: News Page: A1

In the spirit of the '70s, it's not just what you wear at the disco -- it's how you wear it.
Kristen Cassetta Pancerman will come in from Chicago this year and wear the same atrociously ugly dress -- hot pink, neon green and orange -- that she wore last year. That's when her boyfriend tricked her into going on stage and proposed during Buffalo's 13th annual World's Largest Disco party.
"Jon knows how much I love the disco," she said of the man she married last month.Pancerman, who inspired the betrothal by repeatedly telling friends she would miss her wedding to go to the disco, is among the 7,000 people planning to attend this year's party at the Buffalo Convention Center.
The Saturday-after-Thanksgiving tradition -- a tribute to the decade of John Travolta discoing, the Bee Gees' falsetto hits and feathered hair -- sold out in record time this year.
Downtown hotels expect to sell out, too. A limo company reports disco rentals now surpass rentals on New Year's Eve. The disco is now the single largest fundraising event for Camp Good Days and Special Times, the summer camp for kids with cancer. Party money donated through the years has added up to $1 million.
People who didn't score a coveted $28 ticket this year -- lately found on sale on eBay for $70 -- have resorted to e-mail groveling. They want the chance to be part of the dancing parade of Afro wigs, brown leisure suits, crocheted minidresses and all kinds of platform shoes with fish swimming in clear water-filled soles.
"I have been trying to get to this disco for years now, and it seems every time it comes up and the tickets go on sale I LOSE! . . . Please please please -- I beg you!" said one of the 300 messages that have come to organizer Dave Pietrowski, who reported a waiting list of 1,157.
"It's a blast. I think, the highlight of everything I've done," he said. "Frankly, it's our dream. What is cooler than more people wanting to come to your event than you have tickets for?"
The party Pietrowski has worked to refine this year will include a coat-check rack for the usual 4,000 coats, a VIP room for 1,000 who paid $100 a ticket, 400 volunteers, 50 portable bathrooms, 13 big screens showing '70s TV highlights, a bar expanded from 70 feet to 110 and four giant mirrored disco balls. New this year is one 16-foot-long, 1,000-pound psychedelic platform shoe signed by the late James Brown and donated by a Seattle museum after its '70s exhibit closed.
Pietrowski has also hired Erik Estrada to fly in from Los Angeles and pose for $15 pictures. The man famous for his role as a wide-smiling motorcycle cop on "CHiPs" is this year's annual 1970s-era celebrity.
The soiree's tradition of retro quirkiness, with some of the party's biggest fans born in the 1980s, leads people to plan outfits all year, rummage through parents' closets and shop at thrift stores for the perfect '70s adornment.
"Because you know, come Thanksgiving time, you'll need those disco ball earrings," explained Pancerman, 24, a Williamsville North High School graduate who's a psychologist for Chicago's public schools.
At Divine Finds vintage clothier on Elmwood Avenue, the back room is devoted to disco rentals, now a big part of the business. Some of the best stuff has been rented since September when tickets first went on sale: A $50 pair of men's platform loafers with three-inch heels, a $75 gold-sequin mini dress and all four $30 pairs of go-go boots.
Days before the disco, shop owner Danielle Loukataris said she would be wearing a black baby-doll dress with mirrored sequins.
" 'I want sparkle.' That's what every girl says when they come in," she said. "I don't have enough sequins to go around."
Erin Lingle, 28, said she was happy with the $30 minidress rental she was picking up in a matte canary yellow. With that on, she would hide beneath her blond Afro wig, let loose, be goofy and dance like she wouldn't normally dance.
"It's a good time to act crazy," she said, smiling.
Her companion, Jason Utzig, 26, would be wearing brown bell-bottoms. Born in 1981, the disco party has made him curious to go back in time -- briefly -- and see what the clubs and discos of the '70s were really like.
Pietrowski, 44, a Cheektowaga native and married father of two, is a vice president at LoVullo Associates insurance company in Depew. He began his career masterminding big parties when he was a 1981 Student Council president at St. Joseph's Collegiate Institute in the Town of Tonawanda. Back then, he doubled school dance attendance by bribing a radio station program director to give away tickets on the air. He hired one local band right after it finished touring with Van Halen. Dance revenue went from $3,000 a year to $11,000.
The disco idea came to Pietrowski in 1993, the Saturday after Thanksgiving. A drive downtown revealed empty streets, no sign of fun, save for a single bar on then-quiet Chippewa Street. "Next year, I'm going to throw a party," he remembers thinking. "I like the challenge of doing what no one else does."
The city needed that more than the summer party he'd been hosting since high school graduation -- an affair of 1,000 that had gotten so big that he'd relocated it from his parent's lake house to the now-defunct waterfront nightclub the Pier.
When someone reminded him of the Convention Center's one-night "World's Largest Disco" with a "dance-off" held Sept. 8, 1979, Pietrowski decided to host a 15th-anniversary edition. In 1994, he hired a DJ, passed out fliers and sold 1,800 tickets.
Now he sells first to people who bought tickets at previous parties. What's left, a number he won't reveal, he offers publicly. This year's supply sold out in 20 minutes one morning in October, compared with the three weeks it took last year.
That was when Pancerman's now-husband, who also attended Williamsville North, coordinated the engagement surprise. Pietrowski pretended that she'd won a prize for being the 100,000th partygoer to turn the turnstile.
When Pancerman was led to the stage for what would be a diamond ring and a dance to the song "We Are Family," she skipped happily, thinking of something else.
"I was hoping for two tickets to the disco next year," she said.