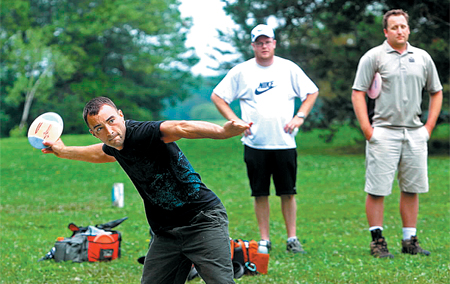 Camaraderie on the fairway
Gathering Story Series
BUFFALO NEWS

Monday, June 21, 2010
Section: Local News Page: B1
Just before Brad Eckstrom flung his disc toward the fat, tall tree, he fell to the ground and did a push-up.
The exercise helped keep his mind on why he was here and the new turn his life has taken.
It was a recent Saturday morning and the start of the two-day, seventh annual Blue Heron Open Disc Golf tournament at Grand Island's Beaver Island State Park, where the course extends along the Niagara River's edge and grassy slopes become fairways.
In spite of wind gusts estimated at 20 mph, Eckstrom had a feeling that he might beat Bobby Jones. The state champion disc golfer with the same name as the 1930s-era golf great is a 50-year-old sous chef from Rochester. This Jones is known for an extra snap in his wrist and shots that soar, making their way into the basket-pole holes with fewer tosses than most.
Exactly nine months had gone by since Eckstrom's girlfriend left him and he decided to stop the drinking she complained about. "I just gotta keep my head in it," he said of the game. "If you have a bad shot, you gotta forget it right away."
About 60 had come for the two-day Blue Heron game that split players into six divisions -- from amateur to the advanced "open" category that Eckstrom and Jones competed in. Men aimed and swore as the small plastic discs stopped short, knocked against trees or fell in the tall out-of-bounds grass. "Can you turn down the wind?" someone yelled.
With only seven local courses and about 100 regular players in the Niagara Region Disc Golf league, camaraderie builds easily. The mix of players, old and young, seems weird and cool to Eckstrom, who is 24. Fellow players can feel like family.
The road in the middle of the fairways led to the covered picnic tables and the score-sheet-dispensing headquarters where organizers talked of weekly league games, growing the sport and finding courses as lovely as the ones for golf at the old-line country clubs. Someday they want sponsors to offer bigger prizes than the $220 Eckstrom was trying for.
The Blue Heron tournament was sanctioned by the Professional Disc Golf Association, which counts 3,000 golf courses nationwide with 45,000 members playing the structured version of the sport that some disdain, preferring more casual play in tribute to the game's 1970s-era roots when friends smoked pot and used trees and light poles as disc-golf targets.
At Beaver Island, men in groups of four played 18 holes, sometimes lying in the grass to wait their turn to toss. With a crew cut and wearing a sleeveless shirt, Eckstrom looked muscled and slightly out of place among some of the other players with their round bellies, leg and arm tattoos snaking up calves and out of T-shirt sleeves, and cigarettes.
Many, but not all, work in blue collar trades. There were contractors, a welder and a high school history teacher. They hauled shoulder bags, heavy with 15 discs or more. Almost half the thickness of traditional Frisbees, golf discs range by gram weight and edges -- from rounded, short-flying "putters" to sharper ones that turn.
Little discs dancing through air keep Chad Adams hooked. He watched as Eckstrom's and Jones' group played near the 14th hole. One of Jones' shots bounced in the grass, away from the pole hole basket. He seemed to have overcompensated for the wind and complained, "How does a disc not rise into the head wind?"
Jones, who can lose his cool when too disappointed, snapped his fingers and put his hands on his hips before sending another toss into the pole hole, an odd-looking contraption with a flat wire top that dangles disc-slowing chains to the basket below.
When Eckstrom flung his disc, it went about 500 feet, skipping to a stop close enough for an easy toss into the hole.
"Nice shot," said Adams, 30. A night manager at a Wegmans, he is raising four children with his fiancee and doesn't get to practice. Instead, he has applied his administrative skill to organizing and raising money for the Aurora Emery Park course he designed in 2008.
He got into the game eight years ago when he noticed people playing at Chestnut Ridge. Curious, he bought a metal plate when he couldn't find a plastic disc at the Dollar Store. People wondered at the racket as he clanged through the course. Now with 75 discs, which cost about $15 each, he still considers the sport a bargain compared to regular golf.
"How's it going, Granddad?" said Adams when he saw a man with long gray hair wheeling a cart with his disc bag fitted inside. "Good to see you, brother," said Michael Brown.
Brown prefers the nickname and is famous for a summer weekend camping tournament he holds at his old family farm and course in South Dayton. Adams and his fiancee had been trying to hunt down a baby sitter so they can go this year for the golf, bonfire and barbecue.
By about 1 p.m. Saturday, Jones was in first place. Eckstrom was in a three-way tie for second. He'd beaten Jones about twice in five years. Three more rounds to go before Sunday.
People went to the parking lot, pulled out coolers, ate lunch and wandered. Eckstrom lounged against his hood with a sandwich and a jug of home-brewed iced tea. Golf was turning out to be more fun without beer in his life.
Granddad, who is like a second father, dropped off a loaf of homemade cinnamon apple bread wrapped in tin foil. Jones came by, too. His obsession with the sport led to his own failed romance. His girlfriend broke up with him and now, he said, they are better off. He said he'd been golfing for 28 years. Eckstrom cracked, "For the record, that's four years longer than I've been alive." Eckstrom kept more to himself before. Now he talks to everybody.
He fingered the Alcoholics Anonymous coins on a chain he'd fixed to the strap of his disc satchel. Silver for his first 24 hours sober. Red for a month, gold for two, green for three, blue for six. Soon he'd get purple for nine. In the fall, he plans to study electrical work and add more skills for the construction work he now does part-time.
By Sunday, the wind disappeared and Jones finished in a tie for second place and $155. Eckstrom hadn't kept up. He did birdie the last hole, getting in the basket on two throws instead of three, but his spending money was gone. The tournament's $55 pro entry fee left him broke for the week ahead.
His score was low enough to put him somewhere in middle, too far from the top to make the scorekeeper's list. But it didn't matter.
He had an awesome time.