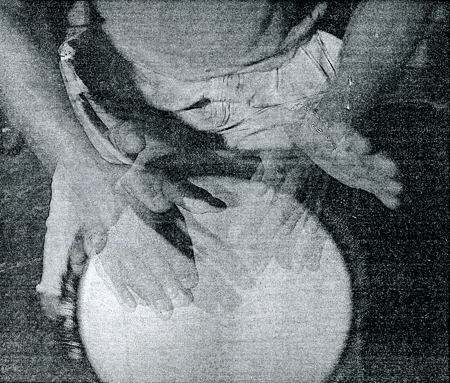 PLAYING IN THE PARK WITH KIMANI
A drummer seeks arboreal solitude, but draws visitors
Boston Globe
Sunday, September 15, 2002
Edition: THIRD, Section: City Weekly, Page 3
In the dark of his usual bench among the crickets at the Arnold Arboretum, Kimani Lumsden took a drum out of the bag he'd carried from his apartment blocks away so that he could sit here and drum alone.
On this September evening, he had a recording of Guinean drummers to play along with.
Lumsden wasn't raised in West Africa, where children learn to drum as they grow up. He studied classical piano and the conga at school in Jamaica, and now he has to work to make the old African sound come naturally.
Still, drumming alone is hard, even at night in the park, because the sound draws people to him.
As he played, a young man with a blond ponytail peered at him and said, "Djembe," the African word for Lumsden's wide-mouthed drum.
The young man had one in his apartment five minutes away.
"Go get your drum," Lumsden told him, breaking his usual rule not to jam when he's trying to practice.
When someone shows such intense interest, he can't turn them away.
Lumsden gets an itch to go play for an hour or so at Harvard University's historic arboretum when the evening is nice, as it was in the half-summer half-fall breeze this September evening around nine o'clock. At precisely the time it is not a good time to play at home, it is a good time to play in the park. There's no point in driving his downstairs neighbors crazy with the scales he does over and over.
On these nights, he's either back from UMass classes he's taking to become a music teacher, or home from his job as a customer service representative for a Boston firm.
All day he has to be the cheerful, confident voice of the company.
"For the whole day there are all these things that I want to say and I cannot say them," he said. When he drums from his spot by the Forest Hills gate, he is speaking again, and he can hear dogs bark back at him.
In the two years he's been coming here, he has worried sometimes that he might be waking the people who live in the apartment building with the lights that sparkle behind him. "Sometimes I feel bad, but they've never said anything," he says. "I would hate to be bothering them. But I have to play."
The sound travels even farther, through open windows, to the houses a few blocks up on the Arborway. This summer, Lumsden's drumming woke a sleeping baby, angering its mother. When the father went out to investigate the tribal sound coming from the woods, he returned to say that the drumming was good, and it couldn't hurt the baby to listen, the couple recalled.
At 31, Lumsden aspires to drum the rhythms, harmonies, and melodies so they are infectious; so people can't stop themselves from rocking their heads, tapping their feet, and jiggling their elbows.
Some of his models are the drummers from Guinea and Mali who play for classes at the Dance Complex in Cambridge. Lumsden plays backup.
"I just want to sit underneath their drums and stare," he said.
At 18, Lumsden, who trained at the Jamaica School of Music in Kingston, quit playing because he couldn't stand the fear that shook him before performances. He didn't slap a drum again until five years ago when he played a friend's congas. As they sang together, "the beauty of it came back," Lumsden said.
The ponytailed young man returns with his djembe, and takes a seat beside him on the bench as Lumsden slams his hands against the drum he holds between his knees. The slap of Eric Freeman, 27, formerly of Ohio, becomes a light echo. A ping to Lumsden's ringing beat.
"I get so lost," Freeman said. He'd been meaning to take lessons.
"No problem," Lumsden said. "Just hit it."
By 10:10 p.m., Lumsden was ready to head home.
He gave Freeman his number, and described the Sunday drumming circle he leads at the Out of the Blue Gallery in Cambridge. "It is a beautiful, beautiful drum," Lumsden said of Freeman's djembe. "Don't let it go to waste."
They walked through the gates together and Lumsden told Freeman what he'd learned drumming in Boston. Sometimes people get so into it, they fall into a trance. There are drummers who say they hear voices when drums play together. Freeman turned to go, saying he would be there for Sunday's practice.
Lumsden walked home along Washington Street, thinking about drumming and its mysteries. There are some rhythms so hard, he said, that he has to get up and dance them out before he can figure out how to make the drum speak, so that the music becomes the primal, beautiful thing that so enchants him, and some who listen in Jamaica Plain.