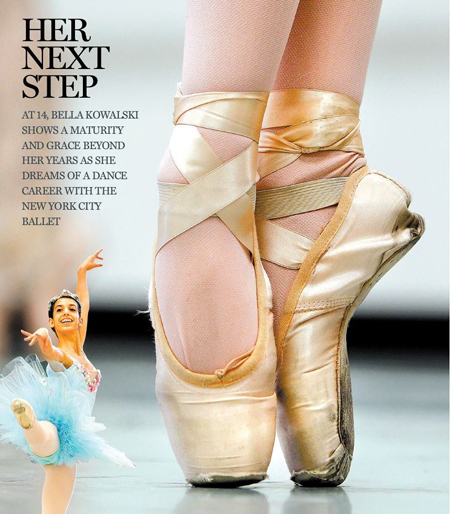 Her next Step
Buffalo News

Sunday, July 10, 2011
Section: Spotlight Page: F1
Sounds of an orchestra swelled from the ballet studio boom box with a song about how music can carry a person away into another world, and Bella Kowalski began to practice for the recital that would mark a beginning and an end to this part of her teenage life.
A rehearsal gone wrong can be nerve-wracking, she knows, but they usually end up working out. "If you have negative thoughts, you're usually not going to end up being able to do it," she would say later.
For this dance, she pushed worry away, telling herself to focus.
Look pretty.
Even when feet hurt, Miss Beth insists, "You gotta make it look easy on your face." Bella was keeping things together by saying the steps, quietly, in her head. Bourrée, fast little steps forward on tiptoe. Head roll. A développé, side kick. She looked forward to the spins on tiptoe that were coming up. They were her specialty. She loves twirling around as many times as she can.
"Turning is the funnest part," she said. "It's like, 'Wow! I just did six pirouettes.'"
In two weeks, this 14-year-old girl with an infectious effervescence, who wows people with the way her leg can fly up to her ear as if blown by a breeze, would start a summer of ballet study at one of the most famous dance schools in the world. Of the 2,200 who auditioned this year, Bella will be among the 235 at the School of American Ballet, founded by George Balanchine.
By the end of July, she will know whether she will be invited to stay on for high school and begin a journey that is the dream of young ballerinas. SAB is a step to a paying job with the New York City Ballet—to be one of its corps of dancers and perform at Lincoln Center.
Months ago, the intoxicating promise of it all had Bella running screaming through her house after she saw online that she'd been chosen, knocking over a glass as she skidded into the kitchen to tell her mother.
Rose Kowalski, who with her husband John has lavished ballet love on her daughter in the form of year-round lessons, a monthly supply of pointe shoes and enthusiasm for its promise, let out her own happy screams when she heard.
Her daughter's ambition has led Rose Kowalski to listen to classical music more on the car radio and pore through the guidebook "The Parents Book of Ballet," finding solace in its strategies for including college study in a professional dance career.
For Bella, who liked how dance positions and 180-degree leg lifts helped her whiz through geometry angles, there is no question that, for a dance life, it is worth missing the traditional college life of her peers.
"It's cool. I don't really mind," she said. "I'd much rather be doing what I love. Dancing on stage."
This will be her third summer leaving home. She went to the American Ballet Theatre's New York City program last summer and she's learned to make friends away from home. That and being good enough to win encouragement makes the steep climb ahead enticing. And makes it seem like something she can handle.
"I'm really excited for this summer," she said. "After what I went through last year, I'm definitely not as scared."
She has some perspective, too. If she doesn't get to stay, she'll try next year.
"They're taking the best of the best," she said. "It's like a long shot.... If I were to get in, it would be like the greatest thing in the world."
* * *
Bella is at the beginning of a trajectory: To excel at the athletic art, with its demands for legs turned out just so, is to win the adrenaline thrill of performing for an audience—perhaps, with great luck, in Balanchine's "Nutcracker."
The career, with a timeline similar to a professional athlete's, can start at 18 or earlier and last through the dancer's late 30s.
On the way, some drop out. When talent and skill pause, sacrifices don't seem worth it. Or, bodies fill out and become less desirable to American dance companies.
For now, Bella is one of the best at Elizabeth DiStasio-Waddell's Royal Academy of Ballet in Tonawanda. Known to the girls as "Miss Beth," DiStasio-Waddell sees in Bella an abundance of flexibility, strength, passion and precision.
Bella is a natural, she said. She can do balanced pirouettes, move her arms with grace and do it all in harmony with the music, in a way that usually comes together much later.
At 85 pounds and 5 feet tall, Bella looks like the girl she is. ("As long as I get to 5 foot 3, I'm OK," she said. "That's my goal.") Ballet, with its daily classes, girls of all ages befriending each other—"There's no weird age separation thing"—and demand for careful time management study skills has left her feeling older.
* * *
Her big, final Royal Academy of Ballet recital, with her "Phantom of the Opera" opening number, was a few days before her eighth grade graduation and about a week before she and her parents would pile into the family SUV for the road trip to the SAB's Manhattan home.
This last Buffalo performance would be two hours of ballet pieces for an audience of parents, siblings, aunts and uncles and grandparents, most choreographed by Miss Beth. There were roles for every dancer at the studio—from little girls with lollipops to older teens as feathered cabaret dancers.
As she practiced the "Phantom" routine with two sets of pirouettes and an end lift by Evan Stewart, her Phantom, Bella worked to have the right look for a protégé of the possessive opera ghost.
With some of the joy that Miss Beth says helps make her a beautiful dancer, a faint look of pleasure crept onto Bella's face. As she glided across the floor, her braces glinted in the light.
The trick to pulling off a dance, she knows, is to keep up, and not get behind in her thinking.
In the piece, legs come together on tiptoe. She falls off pointe as Evan takes her and leans her to the side. Next, bourrée forward, more of the little tiptoe steps. And then, the pirouettes.
Evan, the only older boy taking ballet at the Royal Academy, held his arms lightly on her waist and she began to spin. Toes sandwiched in a thin "ouch-pouch" cushion at the tip of her pointe shoes, she made it five times.
Not a slip.
Evan carried her off, toward the studio white board where Miss Beth had scrawled, "Dance like it's your last day to dance." Now to do it that way on stage.
* * *
Bella had started this last Saturday morning of her Buffalo dance ritual with a breakfast of Fruity Pebbles in the kitchen of the Kowalskis' big brick house by Delaware Park. Carrying a bag of dance things and wearing blue eye shadow that matched the leotard peeking from her dress, she was ready. "Dad, it's 9:43!"
Bella's mother tells how she found Miss Beth's studio in its old home in a Kenmore Avenue plaza, eight years ago, when she was exasperated with her 6-year-old's pestering for lessons.
"You know Bella, you're driving me crazy," she said, pulling over. "Let's check this out."
The Royal Academy of Ballet, now on Englewood Avenue, has the look of a retro doctor's office. Bobby pins rust in the parking lot and parents crowd the narrow linoleum hallway, reading and listening to iPods.
Bella spent the morning helping 3- and 4-year-olds in pre-ballet class learn to stand on tiptoe, grow like a rose, flutter hands like falling petals and get over tears—"You're all right, sweetie," she consoled one.
The job, which helps with the $200 monthly tuition bill, was followed by pointe class, then lunch with the "fremly"—the name Bella's studio friends made up for each other. They blend "friend" with "family" because that's how it feels growing up together and dancing every day after school.
The thin, elegant girls with pinned upswept hair and leotards crowded together at the picnic table in the studio lounge and opened bags of lunches parents pick up at Dash's and drop off in the fridge.
Over bites of Hot Pockets microwave sandwiches, salads and fruit cups, they laughed about an old recital video of their younger selves looking funny and cute as they did flips in green unitards and frog hats.
Even back then Bella was known, as her friend Sara McCarthy put it, for "your amazing leg that goes up to your ear."
"We all try to compete against Bella, but we never achieve her level of greatness," said Sara.
The friends inspire each other with friendly competition. "Are you going to get as high as me?" one would ask before a jump. "I'm going to try," Bella would say, knowing there's a lesson in this. "There's always going to be someone better than you."
* * *
Things would change here, whether or not Bella got invited to stay in New York for high school.
A petite blond who always dances with a smile on her face and is not tense or anything was about to move to California. One just finished high school a year early to train and try out for a job as a professional dancer at Boston Ballet. Another of the girls who named themselves the "Tall Team"—they were all 5-foot-9 and taller—was going off to college.
"I definitely think this is kind of upsetting for our studio," Bella said. "You make such good friends ... You become so close and then you split."
Back in the classroom with tinkly classical piano on the CD player, the dancers seemed giddy on the last Saturday before summer vacation. Sometimes teetering by the barre, they smiled as they lifted legs up and down, held them midair and up by their heads and with one leg bent and the other pointed to the ceiling.
Bella's hamstring hurt. She thinks it's lucky that her mother is a physical therapist who tells her about soothing things like hot water soaks and an athletic tape she calls "magic" for strained muscles.
Ballet and its routines have brought the parents and their youngest child closer. Her mother takes care of fixing the ribbons on her dance shoes, which wear out each month. "She loves sewing my pointe shoes," said Bella. "I hate sewing pointe shoes ... Other moms will be like, 'Sew them yourself.' "
Rose Kowalski likes feeling needed.
"All of us moms, we live vicariously through our kids," she said with a laugh, while stopping by the studio midafternoon with some borrowed Balanchine videos Bella had forgotten.
After one particularly late rehearsal night before the recital, her dad was in charge of carpooling and as the girls "let our steam out," he listened with the kind of thoughtfulness that has Bella calling him a "dance dad."
An engineer with the state Department of Transportation, John Kowalski tells them he thinks it would be fun to be a fly on the wall in the studio.
Even though he's a little off when he compares their frustrations to his time as young hockey player and the time a coach broke a hockey stick over his head—"They grunt all they want," Bella said with a laugh. "We have to look pretty"—she's proud of his enthusiasm.
For awhile now, it has felt like his daughter has been leaving him. Soon after she left for dance study last summer, her alarm clock went off to a Justin Bieber song, he went to her room to turn it off, gazed at the heap of old pointe shoes she hung from her dresser drawer handles and missed her.
Watching Bella perform is what makes all this ballet so obviously worth it. After "a certain edge-of-seatness factor when you want everything to go dead on," he said, there are supreme moments of satisfaction when it all goes perfectly.
So, about a week before they drove her to New York, John Kowalski sat next to Rose with a bouquet of pink gerbera daisies for Bella in his lap, counted about 1,000 crowding the seats of Rockwell Hall at Buffalo State College and peered curiously at the program.
* * *
Even though Bella worried about the first dance because she is still getting used to the slipperiness of the hard stage floor, she was excited. As she and the fremly made their way up the stairs from the dressing rooms to the stage, they got their nerves out singing their usual pre-performance song, an old one from a "Rocky" movie they like for its bravado about taking on "the eye of the tiger" and "the fear of the fight."
The auditorium lights dimmed and the crowd was quiet. Smoke clouds from dry ice puffed out from the wings. Evan was the first out, sweeping across the stage in his Phantom cape. The others spun out in formation in sparkly black skirts; Bella was one of the last.
After she took Evan's hand, the song "The Music of the Night" went on about dreams and darkness awaking imagination and her pirouettes were perfect.
Her mother felt as if her heart was in her mouth as she watched her daughter's jumps, turns and leaps. As the dance ended, her father thought Evan lifted Bella in the air like she was a feather. By the light of his cell phone, he looked for her name in the long list of dances that remained. Numbers from "Evita," "Cinderella," "Singing in the Rain" and even "Shrek." Bella was in lots of them, including her solo as a fairy in a blue tutu with butterflies, bringing spring to life with pirouettes and an arabesque leg lift to the ceiling.
These performances are one of the nicest gifts he gets as a father. To sit together in the dark with his wife like this and see how far their little girl has come usually makes them so happy that they grab hands, get a little teary and smile.
And that's what happened on this Saturday afternoon. There was no way of knowing what exactly what lay ahead for Bella. But to be here like this, said her father, is what life is all about.