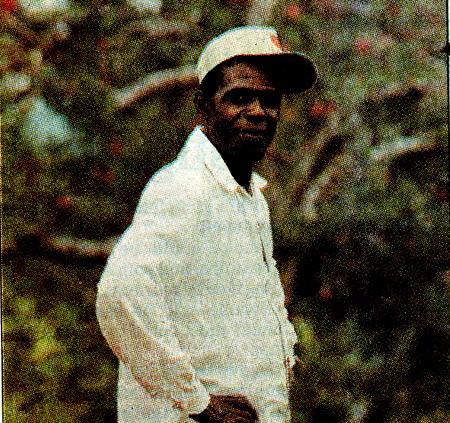 JAMAicAN HARVEST
SUN JOURNAL

Lewiston, Maine
Monday, October 1, 2000
As Denton Ballysingh snaps apples off the limbs he lets songs run through his head.
A song makes work seem easy when it's hard. Balancing on a ladder rung with a 40-pound bucket full of apples on his chest makes his neck hurt. The bucket straps can burn and they will leave a black cross on his back for his wife to see when he is home in Jamaica, another month from now still.
"Some bright morning when this work is done, I'll fly away. Fly away. I'll fly away Old Glory. I'll fly away. Fly, fly, fly. Fly home to glory," he sang one morning as he went from tree to tree, looking for ripe apples for the bucket he must fill more than 115 times before each day is over. "It'll soon be done. It'll soon be done."
Sometimes he keeps the songs quiet and lets them mix with his thoughts about the gifts he will buy for his wife and two children with his apple money. Ballysingh thinks about things like that while moving from tree to tree, looking for apples.
He'd stay home if he could. But in Jamaica prices are high and money comes slowly.
If he didn't leave his farm and come for 10 weeks to pick for Peter Wallingford he'd have nothing left over after he paid his bills. And then he'd have no savings in case of sickness or for his children's college.
He is Wallingford's most consistent picker, bringing in more than 85 bushels a day with the fewest flaws.
The apples have to be more than half red or the boss complains because it isn't a valuable fancy grade apple. But the only way to pick fast is to decide quickly whether an apple is red enough. Looking at all sides of an apple first takes too long. It's easy to pick a green one now and then.
An apple has to be broken off just so, by turning it over the branch so the stem will stay on. If the stem pulls off, the apple rots faster and makes other apples in the bin rot.
When Ballysingh started working for Wallingford nine years ago, he'd pick too quickly and drop the apples without stems on the ground rather than risk the boss yelling.
He can hear Wallingford yell at one of the three other pickers who are his friends and neighbors from back home -- "You hear me? You understand?" -- and he lets another song come quietly into his head. It's a religious song about Jesus shedding his blood for him.
He says he and the others don't hold Wallingford's pickiness against him. When they joke together, they include their boss sometimes.
Wallingford, 47, talks to Ballysingh, who is 36, like a father.
"Nice, nice," Wallingford tells him as he carefully lets his apples into the bin so they don't bruise. Gently he unhooks the strings that hold the bucket's cloth bottom closed. Apples are as tender as eggs.
As all the workers come and empty apples into the wooden bins on the flat bed trailer, Wallingford examines the take. "That one looked green there," he said, holding up an apple. "Pick up the color."
Wallingford tosses some on the ground. A bruised or a scratched apple is a cider apple. Not worth paying to store them. Good hands
The orchard business that Wallingford's great-grandfather started in the 1880s began with local people picking. Husbands would work the treetops in ladders. Wives would pick from the ground and sit when they got tired.
It wasn't until 1968 that his father hired Jamaicans. He couldn't find locals strong enough to pick fast and who also had 10 spare weeks to devote to apple picking. Mainers willing to work that hard already had jobs.
He'd tried Nova Scotian fishermen in the early '60s because the harvest came during their off season. Then they stopped coming because fishing season began to overlap the picking season.
Wallingford wishes he could save on the $625 he spends to bring each man up from Jamaica, as well as on the phone and electricity bills he pays for them while they live in trailers he owns miles from his farmhouse. By season's end he'll pay them each about $4,000 in wages.
The only workers he could find from around here came many years ago from the unemployment office, and they had asked him to fire them so they could go back on the dole.
In all these years, Wallingford has grown to like and trust Ballysingh. It's been an education to taste the spicy cod dumplings Ballysingh makes and learn how quickly Jamaica has changed since the 1960s. There is running water and electricity now. The men Wallingford's father hired had neither.
Wallingford tells people that in an emergency he'd choose a Jamaican apple picker he'd never met to care for his family over an American stranger.
Ballysingh is tall and slender, with close-cropped hair and beard, and a serious look. His fingers are long. It is their hands that make Jamaicans such good apple pickers, Wallingford believes.
They are soft and big. Ballysingh can pick gently, holding the apple with his palm instead of pressing hard with his fingertips and bruising.
His muscles are strong and deep and he can pick for 10 hours. When Wallingford was a younger man he could only keep up with the Jamaicans for six hours before he'd fade out.
In the Jamaican county of St. Mary, if Ballysingh needs to move a house he and other men gather to move it by hand. Here Americans get a crane to do the work. Here people trim hedges with an electric trimmer. Ballysingh trims his with a machete. Big shoppers
Ballysingh got the idea to apply to the Jamaican labor board for picking work in the United States when he saw a plane in the sky. It looked no bigger than a table and he thought he'd like to take a ride in one.
When he finally went to the airport it was like a dream. The plane was much bigger than he thought. After he sat down in his seat, he got up to explore, going into the bathroom to look even though he didn't need to use it.
Gazing out the window is still the best part. The way the clouds move by, looking hard like he could go down there and walk. The route is long. He flies from Kingston to Miami and then takes a bus the 1,640 miles to K-mart in Lewiston. It's two nights and a day, but Ballysingh doesn't mind. It's interesting to look out and see the long bridges.
When he first arrived at Wallingford's 10 years ago, Ballysingh distinguished himself by being the only Jamaican on the crew willing to pick after getting drenched in a rainstorm. The other men already had money from harvest work in the South and they were choosy about when they would and wouldn't work.
But Ballysingh wanted to change his clothes and keep picking. He had lost his job at a Connecticut tobacco farm because it closed and his old boss had found this position for him.
He was the only Jamaican from that crew who Wallingford invited back. After the first Ballysingh he recommended his neighbor Lloyd Davis. Royland Stewart was next and, two years ago, Philbert Morgan came.
Wallingford figures all the men could make more money at a bigger orchard because they'd be able to pick faster. He slows them down with his demands.
He knows he's fussy and he knows some days he says things he wishes he didn't say, so he tries to make things even by taking them shopping.
On days too rainy to pick, Wallingford and the men will spend hours at the grocery store and at pawnshops looking for deals. One gray Friday afternoon at the Station pawnshop on High Street in Auburn, Ballysingh buys a Sega video game set for his 9-year-old son, Andre.
And for his daughter, Angean, 7, he finds a small TV at the Lewiston Pawn Shop on Lisbon Street where a crowd of Jamaicans from other orchards looks through the 10 rooms of stereos, leather jackets and other merchandise.
At Shop 'n Save some of the others shop for the week's food -- beans, tins of herring in Louisiana hot sauce, sugar, cans of coconut milk. Ballysingh picks out an eight-bar package of soap.
In Jamaica, the soap would cost $6. Here it's $1.88.
At the next stop, Ballysingh waited in the parking lot. The week before he had gone inside to the Shaw's Western Union counter to send $150 to "Joe Grind," the name Jamaicans use for the fictitious man romancing their wives and girlfriends while they are away picking apples.
Out front of Shaw's, he can see Jamaicans from other orchards waiting with their bags of groceries to be picked. They stop Wallingford and offer him their names in case he might want to offer a job next season.
Growing cacao trees
Ballysingh and his friends cook for themselves and sleep in beds; at some bigger orchards meals are served cafeteria style and they sleep in bunks.
"Everybody want to come and enjoy the good life we're living," Ballysingh said. Sometimes Wallingford comes to the trailer and plays dominoes with them. On their last night they have a big feast with the Wallingford family. Rice, chicken, goat, carrot juice and spicy sauce are laid out on the picnic tables by the orchard store.
As they sit together, Wallingford loves listening to them speak the lilting patois. When Ballysingh says "hair oil" quickly, it sounds like "er erl." A husband is a "huzzie." A barrette is a "bobby."
Words in Ballysingh's sentences are sometimes the reverse of American-style English. It's "I'm alone home," if he's home alone. When he talks of going back home, he's "going home back."
It's easier for Wallingford to understand what his workers are saying at the end of the season after he's had weeks to listen and get used to the sound.
From what the men tell him, he imagines Jamaica. Not too hot or humid. Cool breezes blowing in the afternoon. Banana trees. Tropical birds.
He'd love to go there with his wife if he could afford it. He wants to see the chocolate trees on Ballysingh's farm. It's hard for him to picture what they look like.
Wallingford's orchards were Ballysingh's model after he bought his four and a half acres with the money he saved picking apples. He planted his leafy cacao trees in rows just like the trees in Wallingford's orchards. "I handle my things with care like he do his own," said Ballysingh.
He has small, medium and tall ones, just as Wallingford does. This way he has younger trees ready to replace the old when they stop producing the seed pods he sells in boxes for grinding into chocolate. If he has a good year and no problems, he might make almost as much with his chocolate as he does coming to Maine to pick apples.
He and his wife, Ann Marie, will plan how the money he earns here will be spent.
They think it through because they both know how hard he has to work for it. He's seen other men who've worked 10, 15 years and have no house, no land. They waste their paychecks on drinking and smoking. He doesn't want to be like that.
He has built a house, with only front steps and a bathroom left to finish. He painted it cream with white trim. He's grown hedges like the one's in front of Wallingford's apple store.
Thinking of Jamaica
Sometimes when he's alone at home, he calls his friends and says, "OK, I'm coming up there" and walks over to visit. Along the road, he passes palm trees, cows, white and green parrots and woodpeckers that make their nests in the tree holes they bore. Stewart's small blue house is the closest. Morgan's brother's property is along the edge of the road, but Morgan's house is too far to see.
Davis's cream-colored house is last, with a sign for Red Stripe beer out front, the signal that he has a small shop inside. The friends get together to play dominos and make people wonder at the stories they tell about the ice rain in Maine, the bridges, the bumpy plane rides.
Ballysingh's mother, niece, daughter, son and wife stand by after he gets home and he opens the big barrels that he ships each year from Wallingford's.
He fills the metal barrels so heavy with things it takes two men to lift each one. This year he will put in rice, cooking oil, peanuts, a microwave, iron, boom box, drinking glasses with Christmas holly designs, shampoo and conditioner. He stuffs bars of soap inside the nooks and crannies.
This year, he's also asked an Avon lady to order a fancy cologne set as a surprise for Ann Marie. Something nice she can put on when she dresses up.
His daughter Angean gets the most excited about the presents.
"She can't wait to see the teddy bear and the dolly and the sweets," he said.
At home he is easier on his children than his wife is. When they ask her to put them to bed she may tell them to wait if she's busy. But when Ballysingh is home he'll stop what he's doing no matter what. He'll tuck them in, give them a hug and fall asleep himself when his daughter reads a bedtime story.
"They love me for that, I know," he said.
Some nights at home he puts off sleep. He goes to check on the kids and move them away from the edge of the bed if they're too close. If it's hot, he'll turn on the fan.
He likes to look out on his hedges that grow in a straight row, making a fence along his property line. In the moonlight they're bright. He trims the tops so smooth and flat they look like he can walk on them.
At the end of each day his wife fills the house's water tank from the rain barrel so he'll have enough to take a shower. Glasses of tea and water are waiting. In bed, when the sheet comes off his feet, she replaces it, a favor he does for her too.
But for now, his home life is a memory as the weeks go by here in Maine.
At the end of his day, he has to look after himself. When he comes back with the other men to the trailer on Death Valley Road, he cooks his own dinner. He drinks 7-Up instead of tea. Before turning in, he rubs alcohol on his hands, feet and neck to make them less sore.
There are nights when he lies in bed with all his gifts piled around him and he says to himself that he wouldn't mind if this were the last day and the last night.