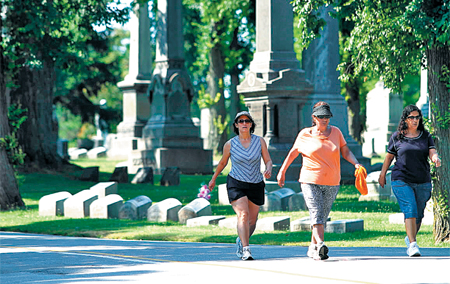 A refuge of life amid death
Gathering Story Series
BUFFALO NEWS

Monday, July 12, 2010
Section: Latest Local News Page: B1
For his second brutal lesson in death, Alton Steward has been taking the curving roads through stone-speckled hills of Forest Lawn to Serenity.
There, inside the newest of the big white mausoleums, tinkling music plays, and the woman who loved him back to health after the flurry of death in the Vietnam War lies in a crypt.
Sometimes Steward sits for hours in an upholstered bench by the window near her. Maybe on Judgment Day things will change. Maybe then, he'll again be with Shirley Lorraine Steward, 7-19-50 to 9-4-06.
Her death tore through him.
"How do you endure?" said Steward, who dissolves into tears thinking of it.
The mysteries of death and of the lives once led are part of why this place has a hold on people, even when they're not mourning. The graveyard built on hilly farmer's land on Buffalo's outskirts in 1849 has grown into 270 acres and now has the remains of 160,000 people. About 1,200 new ones come each year.
Surrounded by city streets, it is a refuge that consoles with its loveliness and the life it attracts. Wild turkeys, a lake with dancing women in sculpture, a stream where a white heron hangs out, a stone chapel. Dog walkers, roller skaters, runners and cyclists wander the web of roads through some 3,700 ash, locust, spruce and cypress trees shading the stone mausoleums, obelisks, sculptures, angels and shrouds.
"It's such an easy place to get lost and get away," said Mary Clare Keenan, a regular who likes the workout in running the hills. "This is where we play."
Her habits include touching the stone marker for Deerfoot, 1830-96, a Seneca who once held a record for running five miles in 25 minutes. She and her running friends like to marvel at the cemetery's weird surprises. They have watched huge turtles mate by the lake. They keep a lookout for a deer they call Sammy who will follow several steps behind them as they jog.
"He's like a pet," said Keenan, who made jokes about her future grave on a recent Sunday.
Perhaps a regal carving, like some medieval knight, would be nice.
Then Keenan thought of the cemetery's most popular celebrity. "I want my headstone to look like Rick James'," she said. The funk singer, cocaine addict and felon has a long-haired portrait with sultry pose and guitar etched in black granite.
Her current favorite headstone is a brown stone obelisk carved with the mysterious title, "The Fakir of Ava."
Curious, she looked online. Isaiah Hughes, 1813-1891, the citations say, was a British stage magician who moved to Buffalo and billed himself as "Chief of Staff of Conjurors to His Sublime Greatness the Nanka of Aristaphae."
"I love him," said Keenan.
They passed the circle of columns. "That's just so cool," she said.
The monument for the wallpaper magnate George Birge has the look of a crisp Greek ruin.
Eric Stenclik said his father was careful to complement it in his design for the nearby sarcophagus for Stenclik's mother Dolores. When Stenclik visits the stone coffin, with a row of smooth columns along each side, he knocks a hello, near her head, which faces the lake.
A religion professor at Canisius College, his office is so close, he sometimes comes for lunch. He is happy to find strangers sitting on one of the curved "Stenclik" benches.
Forest Lawn is his favorite city sanctuary for its comforting confluence of architecture, nature, water, sculpture and people. The scar his mother left in him when she died five years ago at 73 hasn't gone away, but it doesn't feel so empty.
"It's a different normal," he said.
She was an owner of the Superior Staffing temp agency, with her husband, and Stenclik remembers her feisty Irish side, elegance and good manners. "When you're here, you feel closer to the life of the person you lost than you do anywhere else."
Steward comes most every day. His visits to see his wife's crypt are part of his morning routine. He takes a walk through the Boulevard Mall, where he sees friends. He has some coffee at Denny's. He can't go home until he comes here.
Her death is a puzzle. He did everything God asked of him in his life. He was a good soldier. How is it that he couldn't fight hard enough to save her?
When the doctor who treated her bone cancer said, "She is no more," so matter-of-factly, it was as if she had contributed nothing to the world.
He met the kind, gentle woman who had no bitterness by giving her a ride to work during a 1969 bus strike.
During their marriage, she was a clerk for the Buffalo Board of Education and he was a public school teacher's aide and basketball coach. They took summer road trips, with their three daughters and a motor home. They went to Southern California, Wyoming, the Grand Canyon and Salt Lake City, where as a black family, they could tell they were an unusual sight. Time went by so fast.
Lately, he's been feeling a bit better. Dating has come up in conversation with the women at the cemetery office. When some of his old students asked, he told them, "Send me a good woman and we'll have a ball."
When he was ready to leave, he stood up and said goodbye. He did it with a sweep of his hand across the top edge of her metal name plate. That's as close as he can get without being with her.