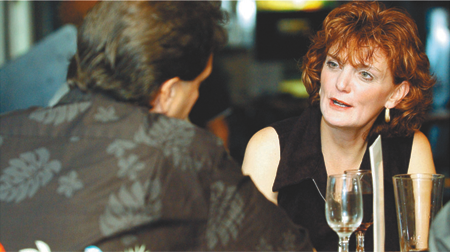 MIX 'N' MATCH

(This story inspired the reality TV show
Confessions of a Matchmaker
)
BUFFALO NEWS
Sunday, November 2, 2003
Section: LIFESTYLES Page: E1
It was the beginning of the month, time to choose a date for every client. For this job, which can be complicated, prolonged and stressful, the matchmaker would have preferred a cigarette and maybe a beer from the long-ignored six-pack in the fridge. But a prospective client was coming in later for an interview at the office suite of Buffalo Niagara Introductions dating service. The smell of cigarettes, a habit Patti Novak classifies as a blue-collar barrier to the white-collar romances some want, wouldn't do.
So this blunt woman who has a way with eye contact was without the diversions she craved as she began to do the matchmaking. Novak let the details swim in her head as she sat surrounded by some of the 300 folders that contained the charts and photos of the clients who have paid her -- up to $1,000 -- to apply her boldness to find the mate of their dreams.
"It's the love business," said Novak. "I can't make everybody happy," she says. Her words came out with a serious look and a forceful, matter-of-fact snap of confidence.
She is unusual. At her dating service she makes her matches without fancy videos or Web gimmicks. She simply uses her picky, sometimes persnickety, self. She rejects some clients if she thinks they would be too hard to match. She tells others to change. The 41-year-old North Buffalonian was unafraid to tell a man who once tried to sign up for her service that he was wrong to think that women wouldn't care whether he had teeth. Teeth do matter, she told him. "If you can afford me, you can afford teeth," she said.
Once a woman handed over a picture of a chiseled-looking male model she had ripped out of a magazine. Novak was annoyed. "And what are you on a scale of 1 to 10?" she asked.
Most simply say what they want -- trust, honesty, caring, respect, thoughtfulness. A companion who likes swing dancing, camping, action movies, rock.
Their serious, smiling and sultry stares look out at her from Polaroids of the bald, bearded, plump, thin, short spiky blondes, long-flowing brunets, those who were never married, divorced once, sometimes twice. Stapled to the charts she has written how much money they make, their jobs, educations, whether they smoke, drink or go to church, or have cats or allergic reactions to them.
Novak would mix it up for one of the prettiest faces in the pile, a dirty blond in her mid-30s with brown eyes. The woman had a white-collar desk job, and Novak had been fixing her up with other white-collars. The men would call Novak to say there was no attraction. The blond had dished out as many rejections as she had received. Five months with the dating service and this good-looking woman was on her 15th guy.
"Maybe I was on the wrong road. I'm not perfect," said Novak.
She would give the woman a late-40s blue-collar guy. He was older than what the woman had asked for; Novak shoots for a close but not exact match. The bearded, confident construction worker had that bad-boy-clean-cut-blue-collar-look Novak thought was sexy.
On Novak's 1-to-10 scale, they were 7s. "They both make a good buck," she said. "They both have their feet planted on the ground."
She flipped open folders, and the part of her personality that she calls her "edge" came through as she decided the October matches. "She's a little chunky, but I think she's adorable," she said of one client, deciding fast and moving on.
"They both like to cook," Novak said. "So they'll be cute in the kitchen." Her member services assistant, Amy Linkowski, was on the floor beside her. She glanced over to approve. Novak had deeper logic for another. "She cheated on him," she said of the woman's ex. "That's why they split." The man in the match had done the same to his ex. "So they're both on the same page."
Then the clean-scrubbed boy-next-door type in his late 20s who works at the airport, was before her. He seemed right for a woman in her early 30s who had a master's degree. Neither smoked. Never married, though 80 percent of her clients have been. Both driven. "They're making decent incomes for themselves for their youngness," she said. Both practicing Catholics. "We're a Catholic town. Sort of like the Mormons out West."
The young woman had the same clean-scrubbed, girl-next-door look. "I like the way they look together," she said.
From weight loss to love
She went on, serious and unsmiling, but thinking about who might fit whom gets Novak on the inside and tickles her. The work appealed to her the instant she spotted the want ad in a paper from a national dating service chain.
"Intangible sales experience preferred," it said. That was the name for a similar kind of work she did for 10 years, selling weight-loss programs.
She had left to be free of the confining corporate style, but she enjoyed the emotion that went with selling people the promise of thinness.
That afternoon Novak faxed her resume. She'd been voted the Ann Landers of her eighth-grade class, and her brother is still married to the high school girlfriend she fixed him up with 26 years ago. She'd be good at this.
At the interview the next day, she was hired, and within a week she trained at the Detroit headquarters. Back home she decided to run things her way. So she quit.
By December 2001 she opened an office in a plain brick building on Niagara Falls Boulevard in Tonawanda. To start, she set up a table at radio-station-sponsored singles dances at Samuel's Grande Manor in Clarence.
It was partly the 9/11 terrorist attacks that made Marlene Shevlin feel insecure. Maybe that was why she didn't throw out the brochure she picked up at the dance.
Too often men pretended to be single when they really had a girlfriend or a wife. "You get to the point where it's hard to meet people," said Shevlin, 50, who went for an interview in December. She liked how Novak said she collected copies of divorce and separation papers, along with felony background checks.
Just like on a date, Novak can tell from a glance in the waiting room if the clients are worth considering. People have about an hour to sell their personality and 10 seconds to make a good impression. Do they have their teeth? Are they less than 300 pounds?
She doesn't have men willing to date "full-figured" women. The same attorney general's rules that cap her fee and limit her to a year of service also require that she send people about one match a month. If she could work slower, over a longer time, she said, "I would take them all on."
Shevlin, a slim 5-foot-2 with auburn hair and a pretty smile, was obvious "quality."
During her interviews, sometimes two hours long, Novak assesses their goals. A woman who had two years of education at Erie County Community College, as Novak does, wanted a date with a master's degree. "Some of the brightest people I know don't have any education," Novak replied, and the woman agreed to settle for "intelligence."
To another, who insisted she would date no one who liked country music, Novak said: "That's ridiculous. I'm not going to put that down."
Novak is careful, too, to ask about the past. "I take them to a place they don't like," she said. She doesn't want people who are on the rebound, looking for human salve for a recent breakup and unready for a serious relationship.
Most people shouldn't commit until a good year after a broken heart, she said. Those who don't take time to recover go out and find new romance as bad as the last, or worse.
That's how it was for her. Four years ago, she left her husband of 17 years, and within months she was dating a man who later broke her heart. "I don't think I ever loved anyone like I did him," she said. "It was definitely humbling."
She refuses to date clients, and for five months she has been on a sabbatical from serious relationships.
But Shevlin, who had been divorced for a year from her childhood-sweetheart husband of 27 years, seemed ready to move on. Her dates weren't right at first. One acted too old; another was sweet and interesting, but Shevlin felt no chemistry.
In February she was hurt by a man she liked, who bought her Valentine's Day dinner, perfume and flowers and never called again. By March another came in the mail, a man Novak considered tall, dark, handsome, a 7 on the scale.
She adds points for personality, and Shevlin, whom she knew better, was an 8. On paper the pair fit because their divorces had been over about the same time and they liked the blues. When he called, Shevlin liked his deep voice right away. When she saw him at the restaurant, she thought he was cute, with thick salt-and-pepper hair.
She was thrilled when he told her he liked to dance. He asked for a second date during the appetizers and she said yes. By spring -- he never dated another in the service -- the couple put their membership on hold.
The way things turned out surprised her. "I just wanted to meet a nice man," Shevlin said. "I was not really expecting to meet a soulmate."
An alternative to bar scene
These were the kind of stories Novak would tell those first months she was open as she drank coffee with her parents on Sunday mornings. Her father approved. "You have found a need. You are recession-proof. People need people," said James Lindner.
He'd sit at the table and giggle at his daughter's bold reactions. To the overweight man who came in with round 1970s-era glasses and big sideburns, she said: "Lose 20 pounds. Save the goatee. Don't dress like a biker. Come back and I'll take your money."
There was the woman who volunteered on her first -- and last -- date that she was taking Prozac. The news didn't bother Novak -- "Quite frankly, half the country is on it" -- but the timing?
"Did he ask if you were taking any meds?" she scolded. "That's a 10-dates-down-the-road-we-really-like-each-other piece of information."
As another year went by, she learned never to assume people know what they're doing.
This summer, women kept rejecting one client, a handsome, successful businessman. The criticisms were too vague to understand, so Novak investigated: She went on a mock date with him.
At lunch the man complained the prices were high for chicken. "I get the 'cheap' red flag about you," she said.
There was an awkwardness to him. And when he announced a plan to move to Florida, she told him he was scaring off his dates. Relax, take yoga, and practice making eye contact and small talk with strangers, she said before putting his membership on hold. "It's silly to waste quality women on a guy that can't act appropriately," she said.
At her desk, which is cluttered with paper, she takes calls from clients. To one man, she gave details about his month's match -- "A nonpracticing Catholic. No smoking. Hiking. Alternative music" -- and then she offered to help. At her service, men must plan the first date. This way she gives them a chance to look more decisive than she thinks they really are.
There are just under 1 million people in Erie and Niagara counties, and about 40 percent of the adults are single, according to data from the 2000 Census. To Novak, that means a lot of lonely hearts. Dating service help is no shame. It's an alternative to the bar scene. People are busy. There's no time to invest in meeting people. "Why are people embarrassed and nervous?" she asked.
The Compassion Program
On an October Thursday night her office was closed, but she was out looking for more clients at one of the client-recruiting happy hours she still organizes along with dances. The $5 cover charge at a bar in Amherst was going to a new venture she was trying to organize after getting a call from a nonprofit for people with mental handicaps, such as brain injury and mental retardation.
A worker explained her agency could do everything but fill their hearts, which made Novak decide to try organizing special singles dances for them and call it the Compassion Program. "It doesn't matter who you are," she said. "The human needs love." She stood away from the crowd at the bar. It was better this way. "I have that rigid edge to me," said Novak, holding a bottle of a Michelob Ultra in one hand and a cigarette in another.
More men than women had turned up, and most sat smoking and talking with each other. One of them, Wayne Mack, 46, a county job coordinator from West Seneca, in a shirt and retro-print tie, joked about the women he'd met on the Internet.
One date began talking about sex "before she even knew where I worked." Another was 100 pounds heavier than her ad claimed. "I'd say she was 255. I didn't have a scale with me." He'd called the dating service and liked the tough woman who answered the phone saying, "Are you searching for just a skinny 20-year-old?"
In the last few months since he signed, he's met a nurse, a teacher and a manager. All nice, but no chemistry. "I guess I'm just realizing people are scared to start relationships," he sighed.
Novak tracks her matches, sometimes impatiently calling clients to find out what happened before they call her. The bearded construction worker and the dirty blonde still haven't met. One of Mack's dates wanted to see him again, and the clean-cut young man has been on three or four dates with the girl-next-door.
For herself, Novak would prefer a man with some blue-collar toughness. Her requirements include good sense of humor, fun, intestinal fortitude, good teeth -- "I'm a teeth person."
But she's not sure she needs a matchmaker. Picking up men is easy. When she spotted one in Ellicottville who danced well to the blues, she used her technique. She held his glance and looked away. Minutes later she looked again, smiling to let him know her intentions were friendly. She scored when she complimented his eyes. She has since taken just one of his five phone calls.
"I'm going to take a big deep breath," she said. She tends to pick out the pretty boys between ages 30 and 35 who are still playing the field. Just the sort she tries to keep out of her service to protect her clients from head games.
It would be good, she said, if she could do the same for herself: "From the emotional regard, I could probably use someone like me."