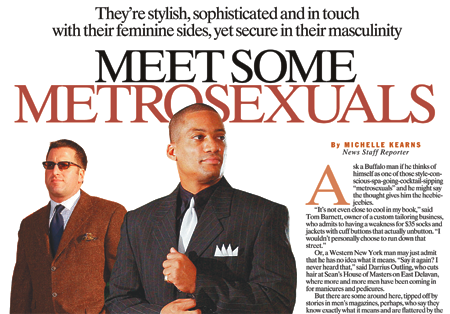 MEET SOME METROSEXUALS
They're stylish, sophisticated and in touch with their feminine side, yet secure in their masculinity
Buffalo News
Sunday, November 30, 2003
Section: LIFESTYLES Page: E1

Ask a Buffalo man if he thinks of himself as one of those style-conscious-spa-going-cocktail-sipping "metrosexuals" and he might say the thought gives him the heebie-jeebies.

"It's not even close to cool in my book," said Tom Barnett, a tailor in Snyder, who admits to having a weakness for $35 socks and tailored jackets with cuff buttons that actually unbutton. "I wouldn't personally choose to run down that street."Or, a Western New York man may just admit that he has no idea what it means. "Say it again? I never heard that," said Darrius Outling, who cuts hair at Sean's House of Masters on East Delavan, where more and more men have been coming in for manicures and pedicures.

But there are some around here, tipped off by stories in men's magazines, perhaps, who say they know exactly what it means and are flattered by the notion that they might just be one.

Victor Colonna Jr.'s girlfriend accused him of it when they heard the word described on a TV show. "I had a real good laugh about the whole metrosexual thing," said Colonna, whose collection of 10 prescription glasses is matched in number by his collection of sunglasses, which he considers a weekend essential.

The word -- coined by a British journalist in the 1990s to describe English soccer star David Beckham -- has been slowly making its way across "the pond," to New York and all points beyond, where "the ultra-stylish new man for the 21st century" can be found. It refers to urban, heterosexual men who manicure, exfoliate and perform other grooming rituals some consider strictly feminine.

"He's hip, urban, sophisticated and secure enough in his masculinity to get the occasional pedicure or facial," said Michael Flocker, the metrosexual author of the Metrosexual Guide to Style, published last month by Da Capo Press.

"A straight guy with the style sense of a gay guy," he continued before admitting that such stereotypes are flawed. "Obviously not all gay men have style and not all straight men are style challenged."

In Buffalo, where "metrosexual" is finally getting dropped into conversation, there are observers who say lately men here, whether they know the word or not, have been getting more hip, more stylish and more willing to get waxed, drink martinis, go to jazz concerts.

Observers also say more men are getting spa treatments from local gender-neutral salons and that there's more variety and color in the shirts, ties and suits spied on men doing business downtown.

An informal survey found many of the men around Western New York who are known for their interest in clothes, body treatments and sampling the city's eclectic offerings -- from hockey games to gallery openings -- are Italian.

"It just comes naturally: A sense of style, a sense of taste, a passion for experiencing the good things in life," said Colonna, citing the Italian culture with its legacy of Milan fashion.

Even Barnett has noticed some kind of shift. He is uncomfortable with the term for what he believes is a connotation of superficial aesthetic knowledge - showing a tad too much interest in the idea that a well-made jacket sleeve buttonhole has 57 stitches - in order to seem sensitive.

Yet, it is true that his male clients are far more aware of fashion than they used to be.

"I think a lot of walls have come down for men," Barnett said. "I don't have any idea why they're doing it, but it seems to be a trend."

Such metrosexual types do make their way to the Hugo Boss men's store at the Galleria Mall in Cheektowaga, where $895 will buy a suit with a window-pane plaid or a bit of silk and cashmere in a wool blend.

Assistant sales manager Siobhan Taylor says more customers come in to get the unusual, such as the vertical maroon-, green- and gray-striped knit button-down worn by co-worker Matt Piccone.

But sometimes, such fashion forwardness can backfire. A customer came in to return a purple paisley tie with a bit of gold, saying it made women in his office complain. "These women just weren't ready," Taylor said.

"A lot of the younger guys are more into their feminine side," she said, adding that her customers often tell Taylor that they're on their way to the Euphoria spa next door for an eyebrow waxing, a facial or one of the $90 hot rock massages to loosen the muscles.

Restaurateur Steve Calvaneso, who lives in a chic Main Street apartment tower, hit upon an idea for a new downtown business venture when he thought about the unmet needs of the city's metrosexuals, some of whom were his neighbors. They admitted to getting manicures and looking for a good place to get a massage: "They live downtown. They love Buffalo. There's a void, I think," he said.

His idea: The Ultimate Men's Shop just uptown from his wine-bar-bistro Bacchus. A men's salon -- for manicures, haircuts, massages and waxings -- combined with a store that sells high fashion designers, such as Nicole Farhi, John Varvatos and Ted Baker.

As the shop at 360 Delaware Ave. prepared to open last week, Calvaneso and his staff showed off back massage and waxing rooms with insulated, sound-proofed walls. There will be cappuccino and espresso service, a flat-screen TV for watching CNN, retro-looking, black-leather-and-chrome barber chairs. By the door, the racks would soon hold shirts and suits and denim, flanking cases of cufflinks and trinkets.

"Truly our mission statement is, 'spoil men,' " said Calvaneso.

Men in this city are hipper and more metrosexually inclined than people give them credit for, Calvaneso said, philosophizing at a downtown cafe, his cell phone earplug in his ear, a textured sport coat over a pair of jeans and a black T-shirt. "In Buffalo we sell ourselves short. Buffalo is not behind the times like everybody likes to believe," he said.

Theories about why the metrosexual thing is happening now range from the fashion influence of TV shows, such as "Frasier" and "Queer Eye for the Straight Guy," to getting a competitive edge in a tough economic environment, to women.

"Women have moved into the men's world and competed with them for jobs," said Calvaneso. Their presence and proclivity for getting manicures and the like has been inspiring.

"What's good for them is also good for us," Calvaneso said, adding that he gets massages and drinks the occasional chocolate martini. "It's a short life, you have to enjoy it."

Three miles away on East Delavan, Darrius Outling used a razor to trim client Dannie Finkley's hair and talked about the increased demand for grooming services. It used to be there were about four salons that catered to African-American men and now there are 15 or 20. More men want manicures, which range from $7 for a cleaning to $15 for a hand-softening wax treatment. Taking such extra care seems more essential now as fewer men work blue-collar jobs and more look for jobs in an office where grooming may matter more.

"You don't want to be stereotyped," Outling said.

But Finkley, who was toying with the idea of a $25 pedicure, had another idea. "Men are always trying to look attractive to women," he said.