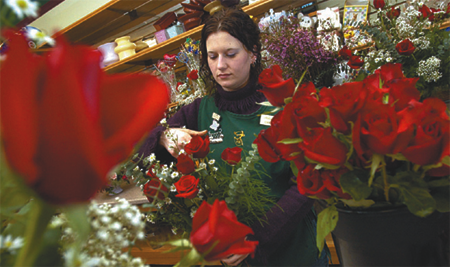 IN THE NAME OF LOVE
Behind all those floral arrangements going out on Valentine's Day is a bouquet of stories
Buffalo News
Friday, February 13, 2004
Section: LIFESTYLES Page: B1

For the people who work arranging bouquet after bouquet of red roses, Valentine's Day is a day of love, heartbreak -- and vigilance in keeping cards for the wives separate from the mistresses.

Even so, such secrets do get out. An upset wife came into Michael's Florist in Kenmore with a credit card receipt for flowers she never received. Her husband, who had indeed sent some to someone else, was busted.

"If you were dumb enough to put that on your credit card, you should have got caught," said Ed Braun, who delivers for the shop. Braun and his colleagues in the florist business -- who have spent long hours this week stripping thorns, cutting stems and perfecting arrangements -- are wise to, accommodating of and amused by the plights of Valentine's Day romance.

As the biggest flower-selling day of the year drew closer, the long-stemmed roses from South America waited in buckets in the shop's basement. Staff in the back room talked of taking one man's orders for flowers to his wife, a local girlfriend and two others in Georgia and New York City. "I bet they're Internet girls," speculated Charissa McGuire, who worked on an arrangement of flowers and ferns.

She and her florist colleagues love playing cupid. McGuire admired a paper doll self-portrait she once affixed to a bouquet. "It was a little corny," she said, "but it was cute."

Braun once earned a $35 tip by plunking a vase of roses on a restaurant table just in time for an 8 o'clock reservation. Manager Kimberley Vigneri has slipped an engagement ring on the last stem in a box. Marlene Detamble, who paused as she stuck red carnations in a basket, has twisted up a red pair of men's underwear to make it look like a flower.

This, they say, is how it goes on Feb. 14, the holiday that has men doing most of the fretting, wooing and spending to show their love. "They don't express it all year long and they take advantage of that day," said Shirley Lucca, as she stuck palm fronds into a flower spray. "I think it's a glorious thing that we do."

She is sometimes enlisted to take notecard dictation -- males, it turns out, are far mushier than females -- when men feel their handwriting isn't good enough. She'll threaten to inscribe, "The girl at the flower shop wants me to tell you . . ."

Once the day's deliveries start, so do the panicked phone calls. When one in an office gets flowers, her flowerless co-workers complain to their men. In turn, they call Michael's, begging for a rush job -- "You got to get down to Blue Cross Blue Shield in 15 minutes!"

One man, Vigneri remembers, was bold. After a single date, he sent 10 dozen roses at 10 in the morning. The woman, overwhelmed, cried when they arrived in her office. At noon another 10 dozen came. "And she cried again," said Vigneri.

Police have asked the shop not to deliver anonymous flowers, as they are often the tools of stalkers. And even innocent motives must be tended. Men can be cautious when they come in, not wanting to ignore the holiday altogether, but worrying about sending the wrong signal.

So balloons with the "L" word on them must not accidentally replace plain red ones and go out to a woman who a man has just begun dating. Just such a slip once provoked a loud complaint.

"The day's a nightmare," Vigneri said. "We have to be very careful."

At Park Florist on Main Street, not far from the University at Buffalo South Campus, owner Marcia McMurray and co-worker Jennie Carey delight in advising and reassuring their Valentine customers.

"Usually it's just tons of guys milling around, not knowing what to do," said Carey. "I'll say, 'Come on, isn't she worth it?' "

A broke-looking college student came to the counter just after watching a man before him drop $100 on a fancy bouquet. Was it OK if he bought just one rose? "Some of these guys are so cute," said McMurray at the memory.

The shop sells small plastic bags of rose petals that Carey said can be scattered on a dinner table cloth, or anywhere else, to great effect. "For $5, you can have your way with her," she said.

For Jamye Smith, assistant manager at Community Flower and Card Shop on East Utica Street, the day is memorable for the rush and the line of men who wait patiently from the counter to the door. They don't mind the wait.

"They don't get upset because they know," said Smith, the daughter and granddaughter of florists. To prepare, she has stocked up on small baskets with teddy bears and chocolates, and roses, mostly in red.

But she thinks people's fixation on the color red meaning love is wrongheaded. "My mother taught me that it's whatever you want it to mean," she said. She admired the man who came in for a bouquet and declined to fill out a card, saying, "Words mess things up. I'm going to let the flowers speak for themselves."

"I thought that was pretty cool," she said.

There is such pressure on men to spring for roses that Bob Petrik, owner of the Mother Nature Plant Emporium on Elmwood Avenue, says he prefers the flower-buying holidays of Mother's Day and Easter when people spend more gladly.

Some Valentine customers are grudging. They complain about the rose prices, which are higher than usual this week -- last week a long-stem rose was $2.75, now it's about $5 -- because the wholesalers raise them.

"For some reason the American male feels they have to give red roses," he said. Some who arrive at the end of the day when red is sold out are forlorn when Petrik suggests alternatives in lavender, pink, peach, or two-color petals of red and yellow. "They'll stand there and go, 'Oh no,' " he said.

Women do come into his shop ahead of time and ask him to be sure and tell their boyfriends and husbands to buy anything BUT red roses. "They were so overjoyed to get the pink instead of the red," he said. "So red is not necessarily a significant color of love."

Love and its myriad of significant tragedies also make their way to Petrik's shop on Valentine's Day. "It's not always exceedingly romantic," he said.
Men who don't sign the cards drive women wild with curiosity. They keep staff, who remember the day as a blur, on the phone trying to figure out who sent the flowers. "Then they get angry," he said.

One woman called to say she didn't want another bouquet sent to her by one handsome young man. Another elegantly dressed woman came in to send flowers to a man who had a wife and three small children at home.

A man with several gold chains around his neck had flowers sent to two women. He shrugged off the disapproval -- "What? That isn't right!" -- of the customers and staff. "Make sure you don't get the cards in the wrong envelopes," he said, before walking out.

And it's always sad when a man's affection isn't reciprocated. They don't get thanked and they call the shop just before closing to be sure the delivery went out.

"One guy came in and said he was going to give up," he said remembering.

Petrik advised: Don't be extravagant. Women don't always care about the money you spend. Do something unexpected. Send tulips. Don't get red. Mix it up.

Then the man began writing notes. Dissatisfied, he discarded one long ode after another. "I said, 'That's going to chase her away,'" Petrik said, recommending a simple signature. "I told him to just pull back a little. The less said, the better."

At their wedding, the bride carried tulips. Now married a decade, the couple has two children. The man still stops by the shop every so often to thank him.