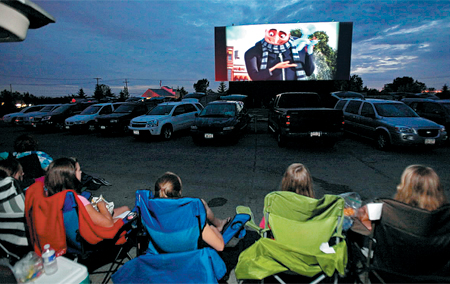 Preserving a nighttime tradition
Gathering Story Series
BUFFALO NEWS

Monday, July 26, 2010
Section: Local News Page: B1
Madeline and Tyler Nadrich had been ready for this evening, their first drive-in outing of the summer, since noon. When the girls got home from church and before they got permission from their dad, they packed the car with the big body pillow, two bed pillows, one blanket and all their stuffed bears and dogs with string leashes tied around their necks.
It was almost 9 o'clock on a Sunday at the Transit Drive-In, and the animated 3-D movie about an evil mastermind who plans to steal the moon was about to start. Swatches of pink sunset broke through the panel of steel gray clouds. The main screen loomed expectantly, seven stories tall, still blank, over the parking lot.
"A screen this big cannot fit in your house," said Tyler, 10.
The movie was supposed to be good. The commercials played up "Despicable Me"'s villain, voiced by a famous comedian. "I want to hear Steve Carell's accent," said Madeline, 8.
The Nadrich sisters were in their pajamas. Having prepared with a nap and a day of good behavior -- "We had to act good," said Madeline -- they were nestled in their viewing spots in the back of the family car. Like most of the roomier cars, vans and pickup trucks at the drive-in, the Nadrich SUV was parked backward, the rear facing the screen and parents lounging in folding chairs beneath the opening.
They had arrived early and got a good spot near the main screen and the miniature golf course. They were in the middle of a pre-movie camp-out party they'd made up for themselves. Tyler brought her library copy of the "Eclipse" vampire novel. Madeline played a small palm-sized video game. Pop and Skittles and chocolate Sno-Caps were within reach.
Drive-in owner Rick Cohen, 42, glanced in their direction. The fun of hanging out before the movie was part of the magic of the place. The drive-in's power to make people happy -- from tailgate picnickers at the four screens to kids riding the playground spinner in the middle of the golf course -- is part of why he left college to work at this outdoor movie palace-playground.
His grandfather bought it in 1957, five years after it opened in the rural outskirts on Transit Road in Lockport. He loves the quirky American tradition better than the million dollars he feels sure he could make tomorrow if he sold his 16 acres on what is now a busy suburban highway.
"I don't want to be the guy who closes the last drive-in in Western New York," he said.
Besides, he said, business is good. He just had two record summers. This one -- with all the warm clear nights and hits from "Toy Story 3" to "Eclipse" -- is on track, too.
"You just can't get any busier when you're turning away hundreds of cars," said Cohen, who has to walk along the roadside announcing sellouts by megaphone to cars that can line Transit for a mile each way.
On the most popular Friday and Saturday nights, some 2,000 adults and 600 children, paying $8 and $3, respectively, can come, in 1,100 cars. They fill rows, edge into bits of space at the ends and park on the lawn.
Many arrive an hour or so before the movie starts and play cards and board games, sip wine by folding tables and even pitch tents. Joe Pusateri still thinks fondly of the truck that arrived with a sofa in the back. "People get pretty creative," said Pusateri, who has been helping park cars for seven summers. "I get paid to watch kids' movies. It's great."
It was about three years ago, after Cohen's father died, and another drive-in, the 66-year-old Buffalo Drive-In, in Cheektowaga, closed, when Cohen's worry about his own mortality and the future of the drive-in led him on a quest. He chronicled the state's outdoor-movie-theater history, from the Quebec border to Long Island.
Protectively and curiously, he searched newspaper microfilm at the library. He copied old ads and stories announcing openings and closings. He went to the old addresses and photographed what he found: Big box stores and drive-in graveyards. Movie screens with tile panels missing like teeth from an old smile. Empty lots with weeds growing as tall as the little poles that once held sound speakers that people perched on car windows before the 1980s, when drive-ins were tuning movie sound through car radios.
After he tracked down 20 that were once in Erie and Niagara counties -- only Cohen's and Middleport's Sunset Drive-In remain -- he didn't want to stop. He kept going and learned how to build a Web site. He took road trips and used off-season time in colder weather months, until he had found that 28 drive-ins are still open out of the 183 that existed in the state from 1938 to now.
His nostalgia is contagious. People have been e-mailing him and posting memories on his historic catalog at www.newyorkdriveins.com. One couple said he's inspired a drive-in road trip -- "Has anyone else done what Ang and I want to do? Or do I start [an] exclusive club ..."
When young fans asked to be married here, Cohen registered online to become a wedding minister. The couple exchanged vows at intermission a few Saturdays ago as tealights flickered along the plastic grass at the 18th hole. Horn beeps, merrily out-of-sync, broke out all over, when Cohen said in his movie-radio-channel ceremony broadcast, "Honk now or forever hold your peace."
He remembers how the drive-in enchanted him when he was a boy. He watched "Chitty Chitty Bang Bang" and "Dumbo" from the car in his pajamas and got carried to bed after the drive home.
Now during the summer, he is too busy to lose himself in the movies as he used to.
Instead, his audience does.
At the end of "Despicable Me," the evil crook had turned into a doting, dance-recital-watching father. The movie wasn't what Tyler expected.
It was better. "I loved it!" she said before her sister puffed her cheeks with air and tapped them to make noise like she'd seen the girls in the story do.
They were ready to go. Mike and Susan Nadrich expected their daughters to fall asleep in the car. When they got back to their East Amherst home they planned to carry their girls up to bed. It was, their mother said, a perfect night.
CLARIFICATION: A person quoted in a News story Monday said the Transit Drive-In is the last drive-in theater in Western New York. There are five others: Sunset Drive-In in Middleport, Park 60 Drive-In in Jamestown, Loomis' Delevan Drive-In in Delevan, Portville Drive-In in Portville and Silver Lake Drive-In in Perry.