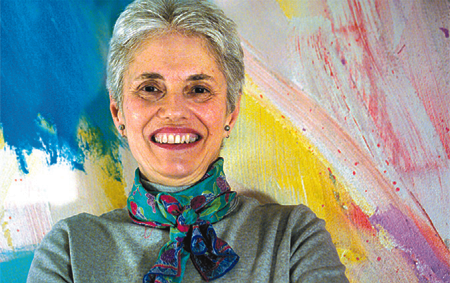 OLGA KARMAN REVISITS HER CUBAN ROOTS
Buffalo News

March 6, 2005
When the e-mail arrived, Olga Karman read the cryptic subject line - "Scatter my ashes indeed" - and got nervous. She forwarded the message unopened to her daughter and son. The publisher could be saying yes - or no to the manuscript she'd titled, "Scatter My Ashes Over Havana."
It was her daughter who called with the news: The poetry-writing Spanish professor at D'Youville College was now officially an about-to-be-published memoir author. Karman then did the three most self-indulgent things she could think of without leaving her waterfront condo.
She drank wine, ate brie and watched "The Sopranos" from the depths of her leather couch.
"I'll never forget that night, the happiest night of my life," she said. Now, three months later, she found the e-mail, which she has no plans to delete. She read the first line from Pureplay Press, which intends to print the book sometime this year. "I am now prepared to make a firm offer to publish your book ..."
She stopped.
"What do you think of that? Isn't that enough to make your year?," she said, looking up from her computer. At 64, her cropped gray hair, black turtleneck and turquoise scarf was a vivid contrast from the dewy high school picture she keeps on her desk. Yet, the framed black and white version of her Cuban self, coifed with dark curl, has the same buoyant, beaming smile.
The memoir idea came to her after more than two decades of writing poetry in Buffalo. Her poems were about the uprooted feeling that haunted her since she came to the United States on a ship. She'd forced herself not to cry as her parents waved handkerchiefs from the shore.
Then, 37 years later, she made her first trip back to Havana. What she discovered about herself and her true home in that city was more than a poem. It was, she decided, a book.
For seven years, she worked composing from her old house on Ashland Avenue. She'd forget to let the cat in, and stay in her pajamas to make the pages of her experience sound as immediate and concise as her poems - published in the New Republic, the Nation and the Allen Street subway station tiles.
"I was in another world," she said. "I was gone."
Her story started in 1960 when she left Cuba to begin what would be a disastrous marriage to an American. The year before she'd greeted Castro with the crowds, holding a bouquet, believing he would save the country from dictatorship.
Yet even with the corruption she knew, Havana was a cosmopolitan Paris by the sea with 10 newspapers, nightclubs and grand architecture. She felt she belonged there so seamlessly, she was invisible.
Her new home on rural road 219, North Stonington, Conn., was hell. "From Havana to cow dung from my picture window," she said.
So she made her way to a divorce and a doctorate in Latin American literature. "Little by little, step by step, crawling out over the wall," she said. Another marriage, which also ended, led her to Buffalo. When she arrived in 1976 she'd thought she would conquer the world with her doctorate from Harvard University.
Instead, she couldn't get a college job. She taught high school Spanish at Nichols School. She wrote poems on the side. The one about her departure from Cuba was the first to be published - in this newspaper. The feelings she'd suppressed until she came to Buffalo made her weep so uncontrollably that someone else in her writers' group finished reading the end:
"I am afraid to look back and see myself next to you waving inconsolable."
As Karman kept at poetry, she began her career as a D'Youville College professor. Bit by bit the city and its people began to enfold her.
After 25 years Karman still thinks her job at a small school founded by Catholics and known for nursing is the best thing that could have happened.
A Puerto Rican cop-turned-student helped her see herself as not just a Cuban, but an Buffalo Latina. She had no answer when he asked, "What are you doing for the Hispanic community?"
Before long she was climbing West Side porches and registering people to vote.
"I became an activist," she said. "Buffalo changed my life."
The evening of December 5, 1991, gave her more reason to feel she belonged. The snow fell so thick, she nearly stayed home from the bicentennial mass and Requiem concert for Mozart's death. Thick traffic crept along Main Street towards St. Joseph's University Church. People, some with scores, came in crowds in spite of the storm - just as she did.
"The first notes took my breath away," she wrote in her memoir's chapter on becoming American. "I belong here with these people."
By the time she decided to ignore the travel ban and go to Cuba by way of Toronto, it was 1997. To the Cubans who stayed for Castro's reign, she was a betraying worm, a gusano. She found her father's cousin, a doctor in his 80s, with tattered sleeves, black teeth and an empty refrigerator. Two better dressed women lived, oblivious, in the other rooms. They seemed to be doing what she'd heard was now custom: Home ownership by claim after moving in and waiting for death.
When Karman, back from her trip, finally walked through the airport, she was relieved to hear her daughter exclaim, "Mom, Mom, you're home." And so, she would write about what it means to become a hybrid, a Cuban form of life now grafted to another, Buffalo kind.
Now, she says she'd like her ashes scattered here, not Havana. Near her grandchildren. To be scattered over Forest Lawn, wouldn't be bad. Somewhere beside Red Jacket, the famed native orator and defender, would be an honor.