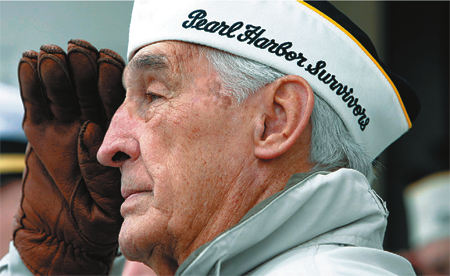 PEARL HARBOR VETS REMEMBER
West Seneca ceremony evokes area survivors' memories of Dec. 7, 1941
BUFFALO NEWS

Saturday, December 8, 2007
Section: News Page: A1
For George Lasezkay, the smell of ammunition, sound of bombs dropping and sight of bodies floating in Pearl Harbor are still with him, but not as vividly as they used to be.
As the 86-year-old Navy sailor's own memories fade, he thinks the collective national memory is fading, too.
That morning 66 years ago when the Japanese attacked was commemorated Friday in West Seneca with bugle playing, singing of "God Bless America," ceremonial gunfire and, most significantly, the presence of five Pearl Harbor veterans.
Lasezkay, of West Seneca, believes they are the only ones left in Western New York, an example of the dwindling number of survivors nationwide. He remembers Dec. 7, 1941 for the speed that he and others fired up the ship Detroit's engine. He'd been dressed in civilian clothes, ready to go golfing on shore. "Then all the sudden the bombs were bursting all over, so you know you're in a war . . . It was like watching a movie, except you were part of it," Lasezkay said at a reception afterward where participants warmed themselves over bowls of chili.
"For 66 years we've been remembering . . . It's about ready to be forgotten . . . It's sad, but it's inevitable."
Even though Lasezkay feels Pearl Harbor Day will one day stop being recognized -- just as the World War I Armistice Day commemoration became the more generic Veterans Day -- there was evidence Friday afternoon that remembering Pearl Harbor still matters.
His fellow veterans and the people who had come to watch the ceremony at American Legion Post 735 in the bitter cold said Pearl Harbor and its message of "be prepared for the unexpected" still resonates.
"My dad was in World War II. So I sometimes I remember the day because he remembered this day in the South Pacific," said Christina Bove, a West Seneca councilwoman, who stood in front of the flag pole as a recording of the National Anthem played. "He's gone but I remember him."
Another survivor, Earl Wickett, 88, of South Buffalo, said he attracts attention year-round for being a Pearl Harbor survivor.
When he discovered some other veterans had ordered special license plates inscribed with "Pearl Harbor Survivor," the retired fire lieutenant decided to get one of his own for his Grand Marquis. Now people wave to him and flash the two-finger V for victory sign. Once someone came to the car to shake his hand -- "while we were waiting for the signal to change."
Earlier, at the ceremony, Wickett was pinned with a silver New York State service cross with a red ribbon for his service.
"I was surprised and touched. This is the most recognition I've gotten," said Wickett.
On the morning of Dec. 7, 1941, he remembers walking to a church service at a newly built chapel. At first he thought the noise in the sky was from routine plane maneuvers -- until the sound of gunfire made him look up and he saw a Japanese plane with red dot symbol of the rising sun on its wings.
"I could hear the rat-a-tat-tat of the machine gun . . . You could almost touch the pilot," he said of the attack, which his Army unit responded to by setting up machine guns pointing to the sky. "It was alarming, very sneaky, very shocking."
On the other side of the room, where people were eating chili, Amy MacGregor, of North Evans, sat with her son and daughter, who had the day off from school. As the mother of a son who died in Iraq 21/2 years ago -- Jacob Pfister, 27 -- she had made a point of coming to the commemoration so that her children will have a connection to the community of people who have served in the military.
Another son, Ian Morrisey, 25, is a Navy petty officer first class. He called from Qatar that morning to find out what Pearl Harbor observances they would be going to.
His little sister, Monica Morrisey, 11, said she knows why this matters to him: He wants her to have a better understanding of war.
"He always wanted me to know things that happened before so I can also know what's happening now," said Monica, who is in the sixth grade.
She said she likes learning about history and understands the reasons for World War II and the war in Iraq are different. Yet from what she can tell from observations of the one happening in her lifetime, "just battling it off" seems to be a bad way to solve a conflict.
"I think it could be settled in a different way," she said. "You're not finding the opinion of people you are fighting and why they don't want change."
Lasezkay, too, said different battles and different wars have different messages and meanings. He said the message of Pearl Harbor was, "don't ever get caught unprepared again."
There had been warnings of the Japanese attack, he said. "Yet, we were still asleep at the switch."
He fought until 1945 when peace came. He didn't realize how stressful it was until he was on a ship heading to attack Japan and heard the war was over.
"I almost floated right up," he said.