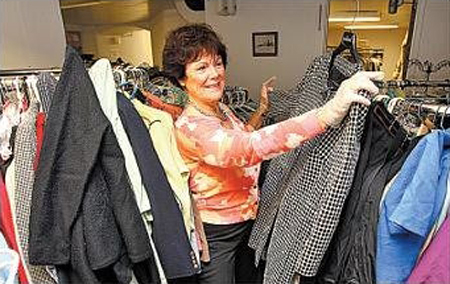 Requiem for A White Elephant
Changing Times Endanger White Elephant Sales

BUFFALO NEWS

Saturday, May 21, 2011
Section: News Page: A1
See related essay: White Elephant Sale Memories Run Deep
Linda Mairs and a few other volunteers, with bittersweet feelings, were quietly sorting donations in the basement rooms of Trinity Episcopal Church in downtown Buffalo. There was an abundance of odd, intriguing and lovely things.
A mounted pair of steer horns, a clay piggy bank, silk dresses, flower-embroidered pants, a velvet-and-fur hat with three matching hatpins.
There were also a wet suit, a row of golf bags full of clubs and a shelf full of coffeemakers.
All were ready to be sold this weekend at the final Trinity Church White Elephant Sale, ending a century-old tradition for the Episcopal church at 371 Delaware Ave.
"When you open a bag, you never know what you are going to find," said Mairs, who kidded with another parishioner as they went through boxes and bags in preparation for the final rummage sale.
Kathy Piske, who had been at the church three years, asked someone if there was some way to keep the sale going.
She had found prom dresses last year for girls who needed them at a city school where she works. An older parishioner shook his head doubtfully.
"I think it's disappointing," Piske said. "A lot of people rely on the sale to get the basics at a really good price."
Smaller, more manageable sales of good used things do still thrive in other churches and synagogues. Many seize on them as ways to make ends meet in a recession.
Yet, the elaborate white elephant sale, with its avid subculture of shoppers and volunteers, has been dropped not only by Trinity, but also by other churches in recent years, as well. Sales that took months to organize have become victims of social change.
"American culture has changed," said the Rev. Joel Miller, who leads the Unitarian Universalist Church on Elmwood Avenue, which discontinued its mammoth sale a decade ago.
"Previous generations had an easier time. Patterns of daily life brought people together."
He noted that these rummage sales represented more than just a cheap supply of vintage fashion and bric-a-brac. They also fostered social bonds.
At Trinity Episcopal Church, leaders found the White Elephant Sale, with its months of organizing and year-round storage of stuff, too cumbersome to continue despite its $12,000 in revenue last year.
"It's so labor-intensive, it's not really worth it," said Cam Miller, Trinity's pastor, who has plans to renovate the church basement and rent out space to community-oriented operations. There are other fundraisers that are easier to organize but are still lucrative. An auction that was less of a production netted $16,000. A golf tournament that raises $5,000 is nice because it's just play.
Miller never embraced the sale.
"Little fundraisers here and there don't make enough money to make a difference," he said of the rummage sales.
That's pretty much what Joel Miller found when he arrived at the Unitarian Universalist Church a decade ago.
His church dropped its traditional sale after his first summer on the job. As at Trinity, various spots throughout the church hall had been devoted to storing different categories of donations -- housewares, dishes, furniture, art, tools.
"It was everywhere," he said. "We couldn't have anything else happening. That was all we could fit."
After three days and all the volunteer labor, little sold. They made $650. "It was demoralizing," he said.
But he knew the social aspect of the sale was worth saving.
Now the congregation of 450 has worked out another way to raise money and strengthen relationships. In alternating years, it holds an auction of services. At one, Joel Miller bid on an Italian dinner for eight hosted by a parishioner -- and lost it when the price went above $250.
The auction doesn't take the same effort as a rummage sale, but the church raises much more money -- $15,000 at one -- and people have more fun and still get to know each other.
St. John's-Grace, an Episcopal church on Colonial Circle, is holding its own rummage sale this weekend, too. Like Trinity, the rector has been thinking about the sale's end.
There are lots of good points, said the Rev. Philip Dougharty. The sale builds community, it is known for things nice enough to attract antique dealers, and it is a service to people who can't afford to shop in regular stores.
The $3,000 that comes in is a major source of revenue. Yet, Dougharty asked out loud: Does the old sale culture still fit in with the church mission?
"I think churches are having to go back to essential basic questions of, 'What are we about?' " he said. "It's a process. It's a journey," he said. "We've been talking about this journey ever since I've been here."
According to Trinity Church lore, the White Elephant Sale goes back 100 years. Shirley Hudders, who has long managed the church's finances, remembers talking with an older volunteer who worked in the book department: The late Martha Sidwell Adams, born in 1909, reminisced about her mother working at the sale when she was a young woman.
For the volunteers still working in the damp rooms in the basement of the 19th-century church, there has been certain joy in the hundreds, "if not thousands," of hours sorting and selling donated stuff.
"It's a great way to clean your house," said Mairs, pausing at the box of things before her. She's volunteered for two decades now. Her retired banker husband began working as sale cashier, in part, to hang out with his wife.
"[The sale] brings so many people together. The people who work the sale have a wonderful camaraderie," she said, returning to her sorting.
Fellow volunteer Alison Mueller, who stood by, said, "I think it's kind of sad." Then they both peered into the box of things before them, amused by what they saw.
There, among the neatly folded clothes, was a mystery. It looked like a shower cap, but it was made of nonwaterproof maroon, polyester mesh. Around the elastic edge was a goofy-looking white ruffle. "Tell me what this is," said Mueller. A snap of its elastic sent the thing flying onto the growing pile on the table. It was hard to imagine anyone wanting that. They both laughed.
There's a certain joy in all this, said Mairs. But maybe the White Elephant is finally coming to a graceful end.