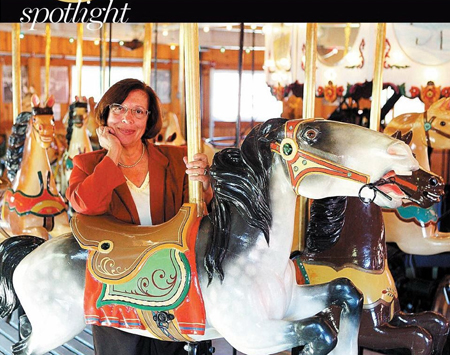 round and round we go
Buffalo News

Sunday, October 14, 2012
Section: Spotlight Page: F1
NORTH TONAWANDA—Just past the gift shop and through doors that swing open like a saloon entrance, there is a workroom strewn with tools. A small crew of men in their 70s and 80s gathers there to joke, build and paint the things that are slowly bringing Allan Herschell's old carousel factory back to life as a museum.
"This was brand-new when I started," said Mel Brundage, 76, looking down at his apron, gray with paint splatters. "I look like Leonardo da Vinci."
The splatters are from his 14 years as a volunteer, coming on Mondays and Fridays, repairing windows and the platforms that hold the horses frozen midgallop and the rest of the saddled menagerie of zebra, ostrich, rooster, frog and others. When done, they will be ready to ride and admire at the Herschell Carrousel Factory Museum.
Here, where volunteers often outnumber visitors, the place has a languid, undiscovered air. Brundage and the gang worked together measuring wood and adjusting—"Glue! Glue! Glue!"—as a wall panel came together for a pavilion to go with the four newly renovated Kiddieland rides from the factory's postwar baby boom era, when merry-go-rounds were considered passé.
By next summer, little kid-size fire trucks, horse-drawn chariots, helicopters that lift in the air and boats with bells to ring as they float will be assembled and open for business on the side yard, like a red, yellow, blue and green carnival garden.
By then, museum director Rae Proefrock hopes, the fun will be more obvious. Maybe, finally, more people will come.
With a yearly attendance of about 12,000 visitors, numbers at the 30-year-old museum are low. "I'd like to get it to 30,000," she said.
Being in Niagara County, it can be hard to get the attention of residents of the more populous Erie County. More baffling is the dearth of local children at the museum.
On Thompson Street, just around the corner and down two blocks from the regal, and busy, columned city hall and police station, the museum factory beckons with its original jolly signs. "Merry-Go-Rounds. Park Amusements. Road Carrousels."
"Every single day that we're open, someone will walk in and say, 'I've lived in North Tonawanda all my life and I've never been here' and we'll say, 'AwOhhhh,'" said Proefrock.
A retired elementary school reading teacher, she and her husband Chuck—a retired high school social studies teacher, now board president and lead restorer of carousel horses—started working on the museum a few years after a 1976 family trip to Washington, D.C.
Their visit included a ride on a Herschell merry-go-round at the Smithsonian. A sign called it and its North Tonawanda Wurlitzer "national treasures."
What a shame, she thought, that there was no place at home where families could experience the famous things made here.
"Our children had very little knowledge of the history of the city," said Proefrock, who remembers looking through a factory fence to see men painting horses when she was a girl. "Very little understanding of what they could be proud of in their city, and so I always felt that this was one topic they could become interested in."
Three years later, she spotted a newspaper notice about people raising money to buy a Herschell merry-go-round and joined the Carousel Society's effort. It would later inspire one of her sons to write a college essay about the value of not giving up on a dream.
With bobbed hair, rounded glasses and solid skirts and blazers, Proefrock has a neat, cheerful look that mirrors her approach to her job as volunteer director: She runs the place with the mild, unflappable air of someone who is stuck in a happy dream come true.
"Aren't they beauties?" she said, pausing by miniature fire trucks and cars waiting to be connected to the rest of the ride. Their sleek, 1940s looks were restored to a gleam by the Orleans-Niagara BOCES auto body class.
Outside, behind the museum, kiddie ride and mechanical parts waited in pieces for restoration, some covered by tarps: Upside-down sections of the metal trough that the boats will float in; a base with gears, which will eventually move the little red and white helicopters, stood like a stumpy tree trunk.
"As it's going, children push and pull on a lever to make it go up and down," she said. "Children usually love that."
The fun never gets old
In the months ahead, the ride pavilions will be built from rot-resistant larch wood, and volunteer companies, including Carruba Collision and Urban Paint, will refurbish the mechanics, including those of three rides bought from the Whistle Pig burger joint in the Town of Niagara.
"We're just so excited, because when it's finished, it's just going to be wonderful," said Proefrock, before heading inside to lead a tour of children on a field trip.
"This building is older than your grandmother," she began, speaking beside the re-created carving area from the 1916-era factory. "Something very special happened here …"
There were shavings on the floor, wooden horse bodies in various states of construction, a green frog with a saddle, a horse with its teeth showing and life-size cut-outs of old photos of men in ties at work.
Ever since the museum opened in 1983 with a single working carousel, it has grown with ever-so-gradual purchases, donations and repairs. There are 25 volunteers who come weekly to run the gift shop, turn on the carousels, and quietly fill and tend the attraction as it takes over the old factory grounds.
The property languished after the Allan Herschell Co. sold it in 1959. A motor restoration company last used the place for storage. It took volunteers two years to clean out the old metal parts left behind in the assorted structures, but it is now possible to wander and imagine how things were a century ago.
Horses were carved, painted and assembled into merry-go-rounds to be tested, before being taken apart, crated and loaded onto the trains that pulled up just behind the roundhouse to carry them away.
The first building the museum opened, the roundhouse now holds the bigger of its two working carousels: "March 1916" is etched on a mirror panel above a full set of horses and a little "love tub" that riders spin with a steering wheel.
The ride had been in storage in London, Ont., since 1959, when the owner took it down to make way for the lakeside highway; a dealer at a convention tipped off the Carousel Society. It began giving rides on the "Allan Herschell Number 1 Special" during the first summer Canal Fest in 1983.
"Of course to keep it working, that was a trick," Proefrock said. "We operated it Monday, Wednesday and Friday. And Tuesdays and Thursdays we did repairs."
She led the field trip children from the carving area to the display devoted to another bygone local manufacturer: Wurlitzer organs were once sold as a carousel upgrade option.
"To me, the real magic of the merry-go-round is the music," said Proefrock, before flipping a switch on a 1925 band organ the size of an upright piano.
The marching band-style music, played from a wax paper music roll, sounded like a circus coming. According to its sign, the instrument's wooden pipes were imitating drums, cymbals, three trombones, 16 violins and 15 trumpets.
Behind her, half of the museum's 2,000 music rolls filled shelves from floor to ceiling.
These were the Wurlitzer "masters" and are among the out-of-the-blue offerings for the museum's collection.
A man from Maine called to say he would sell the lot, rather than auctioning the rolls, if the museum was interested.
Proefrock procured $30,000 in two weeks, by doing as she often does—turning to local foundations for help.
This spring she was in Florida when she got the "amazing, remotivating, exciting" call from a foundation about an anonymous benefactor paying half of the $300,000 cost for the kiddie ride installation.
"I hope to meet this person soon," she said.
Two years ago, another surprise came from Sam Hummel, a North Carolina man, donating his circa 1946 Kiddieland fire truck ride that he used to set up for neighborhood children. "He just called me and said, 'I love this ride and I want to give it to you.' "
Images from the past
Proefrock paused by some photographs, the size of small billboards, of men at work here a century ago.
The pictures are copies of photos from an album that a young couple brought in almost 20 years ago.
The album had popped out after they'd tugged and tugged at the jammed bottom drawer of a dresser they bought at an auction. "It was so great that they thought to bring it in," Proefrock said.
Looking solemn in neckties, the men plane wood and carve horses. The photo on the wall in the old painting room, where assorted carousel animals are on display, shows a white-haired man standing among unpainted horses and peering down as if to say, "What color do you want to be?"
A calendar in one dates the portraits to 1919, about four years after Allan Herschell opened in an old greenhouse factory. Not much is known about the persistent merry-go-round machinist entrepreneur born in Scotland in 1851. A former employee told Proefrock that Herschell was rather stern, and all business.
After starting a foundry, Herschell spotted the early steam-powered rocking-horse style carousels in New York City and persuaded his partner, James Armitage, to add them to their line of steam-powered corn huskers and farm implements in 1883.
Land speculation led to bankruptcy and a new company. Herschell teamed up with his brother-in-law Edward Spillman to make carousels with horses moving up-and-down inside an old brick railroad building, now Remington Tavern on Sweeney Street. He retired in 1913, but that lasted only a few years before he opened the factory on Thompson to compete with Spillman. "I think it takes someone with some vision to have even started to produce these," Proefrock said. "There were no automated rides of any kind."
His factories' progeny carried on long after his 1923 retirement and his death four years later at 76.
A United States map in the museum marks the nation's remaining carousels by dots: 75 out of 120 still working today were made in North Tonawanda, from the San Diego Zoo's tiered carousel of horses, lions, tigers, giraffes and camels to the six merry-go-rounds in and around Binghamton, a gift to the community from the Endicott Shoe company.
The Kiddieland rides, which debuted in the 1940s after World War II, are less well-documented, but there were some 600 parks, including Whistle Pig.
Working editions nearby include rocket ships, "skyfighters," a Ferris wheel and three others at the Olcott Beach Carousel Park. Together with the museum's new collection of four, the rides are a portrait of the last generation's legacy and ambition.
"They were creating rides that reflected something in the culture of the time," Proefrock said of the company. "The skyfighter, which basically came out when Flash Gordon was on TV. People hoped that someday we would go into space…. A tank ride and Jeep ride that came out after the Korean War. That's what made it a successful venture. It was reflecting what people wanted to do."
Re-creating Kiddieland
The museum will try to re-create an old company tradition when it opens the exhibit next spring: having kids act as testers and do as children recruited by the company long ago must have done, telling the ride operators what they liked, and what could be better.
The room devoted to Kiddieland history includes the operation manual—"A business with a future"—and a wall of snapshots of children on Whistle Pig rides in the 1950s up to the last ride year in 2008.
The field trip's bus driver looked in. "Oh, my gosh! I used to ride those rides," said Debbie Loretto before her group headed to the carousel, where children picked favorites among the shiny horses, their upturned hooves showing off the company's trademark real horseshoes.
At the roundhouse, the wood groaned to life and the merry-go-round began to turn—fast but not too fast. Enough for a light breeze and happy, slightly dazed smiles when it was over.
Sometimes the clanging circus music of the carousel band organ drifts into the back room, where the men, most retired from careers fixing and installing things, talk about heading to Florida when the weather turns, how it feels good to work where one project swiftly follows another and the pleasure of making this old place last for children, and former children.
"If someone doesn't redo them and keep them up, you'll lose it," said Wally Stiver, 82. "People will never know about it."
Stiver, who had a career in telephone repair and still flies his own plane on weekends, likes to think about how the walls, floors and ceilings they've built should last another 50 years. "Of course, I won't be around," he said with a chuckle.
But he was around when an old, short man gingerly walked in, with a cane for each arm, pointed at a young guy in one of the old factory portraits and said, "That's me."
Stiver is still tickled by the woman from Switzerland who said she'd never been on a merry-go-round before. He turned on the carousel for her. At first, she seemed to hang on for dear life. Then, hand by hand, she let go and yelled, "Whoopee!" When she got off, she was crying and happy.
You don't get experiences like that, he said, unless you do something like this.