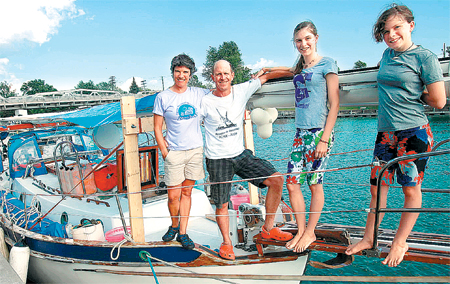 Sailing into port and home after 7 years
Family's odyssey around the world ends in Buffalo, where husband grew up

BUFFALO NEWS

Thursday, July 29, 2010
Section: News Page: A1
As the Hopkins family headed through the last of the locks on the Erie Canal in their sailboat Estrela this week, their seven-year trip around the world finally came to an end.
They were getting closer to the possibilities of life and friendship on land. A new beginning with a new house, new schools and a new career of teaching at Buffalo Seminary this fall, seemed as exciting as their round-the-world ocean adventure did when it began in 2003.
They sailed thousands of miles through the Panama Canal and the Pacific Ocean, Australia, Malaysia, South Africa and then, in the end, made their way through the canal to make a home in the city where Doug Hopkins grew up.
As they headed toward home along Brazil's coast, the couple made plans for teaching careers at journey's end. That they landed two positions in Buffalo was one of the many surprises of their odyssey.
In a month, Doug Hopkins, 53, will teach history, and his wife, Kyle, 46, will teach health, help coach field hockey and guide community service work. After home-schooling their daughters at sea, teaching young women had become a new vocation.
The same instinct led them to start their odyssey. Doug's intense job as lawyer and co-founder of the oceans program for the Environmental Defense Fund had led him to spend more and more time away from his wife and daughters, Abigail and Eliza, who were 5 and 8 when the journey began.
"I never grew up sailing," Kyle Hopkins said. "I never wanted to sail. I never wanted a boat." But then, a family outing on a lake in New Hampshire got her curious enough to consider the sport that had infatuated her husband growing up in Buffalo.
Slowly, the couple hatched a plan from their Connecticut home that they would eventually sell. They calculated the expense, figuring they could live on $25,000 a year. A sail-around-the-world guidebook said it should take three years. For $68,000, they bought Estrela -- Portuguese for "star" -- a used, 32-foot sailboat.
For Kyle Hopkins, heading through the Panama Canal was the real beginning of the trip -- when the view of the Atlantic disappeared and the Pacific lay before the family.
It had been five months since they left Connecticut. New medicine for seasickness was finally working, and she'd mastered bread baking in the tiny galley oven.
As the years went by, the family adjusted and carried on with their journey. The girls grew, and new home-school textbooks awaited in the mail at ports, helping them to navigate about seven grades.
They decided it was OK to go slow. They conserved money and cooked rice, beans and lentils on the boat instead of dining at port restaurants.
They navigated by charts and a global positioning system. They used solar panels, a wind generator and propane for stove and computer power.
In Australia, they heard about a flotilla headed to Thailand and joined in. On long lonely passages, dolphins had a habit of appearing just in time to cheer them up.
They worried about pirates when a boat of strange men came close and stared menacingly before turning away. They came within a quarter mile of colliding with a freighter. They got stuck in South Africa for 15 months, partly because the replacement for a dead battery kept getting stuck in the mail.
They had changed as people.
"I feel much more aware of how small the world is," Doug Hopkins said. They met struggling families, cooking on open fires and dirt floors, too poor to buy medicine and too stressed to look after the environment. He's decided that in the future, his advocacy will include fighting poverty.
They had adventures. Abigail sat on a tiger's stomach in Thailand. At a city stop on a road trip through Namibia, mother and daughters joined a Peace Corps volunteer for his class for girls about how to fend off male attackers.
"We walked out of the building, stepping high with our chins up," said Eliza. "I think it's inspired me to go out of my way to help other people."
The Estrela's cabinets and wall panels are decorated with mementos of a happy, far-flung life. Hanging from a kitchen cabinet is a cluster of vanilla beans they obtained in Madagascar by trading glass jars and an old T-shirt to a woman they met in a dug out canoe.
A creamy brown springbok antelope skin from a game park in South Africa nicely hid the clutter of the family's instrument collection of guitar, violin and flute that they sometimes played together.
In thinking about the life change ahead, Eliza, now 15, and Abigail, 12, say they will both miss teaming up to take a turn doing a night watch. Together they'd stay up and look for danger while their parents slept. The serene quiet and peace of being in the middle of the ocean is like nothing else.
Yet land friendships seem bound to be an improvement.
Since last month, when they left Connecticut, headed up the Hudson River and into the Erie Canal, the family's new home seemed unhurried and serene.
A little like the ocean's horizon, it seemed to stretch with promise.