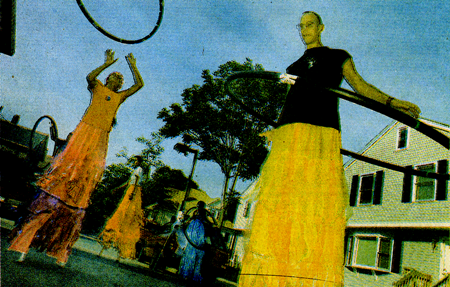 AFTER SCHOOL AT FULL STILT
An ex-ad man learns how to walk on stilts, and takes on students
Boston Globe
Sunday, June 9, 2002
Edition: THIRD, Section: City Weekly, Page 1
The after-school lessons have been over for weeks, but Jomar Lopez and his pals can't stop walking a few blocks from school to see his stilt-walking teacher.
The man with an office in the cream-colored building at 45 Danforth St. stuck with the 13-year-old when he was afraid and helped him, a 5-foot boy, learn to walk and dance as a 7-foot-tall person with rubber-tipped wooden poles for legs. "I did it and I got scared," Lopez said of his first attempt. "And three months later I did it."
Some days George Anastos will still take Lopez stilt-walking. They went to the park not long ago because Lopez felt like having people look up at him. And on a recent after-school afternoon when there was nothing to do at home, Lopez and his friends stopped by Danforth Street.
Anastos has been surprised to see the kids appear at the old German club that is now home to the arts group Spontaneous Celebrations. No one did this last year, the first time he directed the free after-school lessons for middle-school kids in "festival arts" - a mix of dancing, drumming, painting, stilts, and homework.
Now the Curley School students find him at the only desk in the office without papers spilling all over, with their photos and drawings tacked neatly on the bulletin board behind him. He is meticulous - filling out paperwork, keeping track of the kids and their permission slips, and calculating how much grief he will put up with from the students who try to make fun of him, the skinny white guy with a shine on his bald head.
"An-aaaasss-tosss," they call him and he looked serious with wide-open eyes through his glasses and then decided to grin. That is his actual name, so it was OK. He wouldn't put up with the "Joe" one kid tried one afternoon. But even George-ito is fine. He calls them names himself. McSoftball for McDuffie. Este-bon-bon for Estebon. Jo-mama for Lopez.
On this afternoon when Lopez and his friends came, Anastos decided he would spend some ice-cream coupons. So the band of six-or-so kids made the 20-minute walk to J.P. Licks on Centre Street. Lopez bounced a basketball the entire way, walking out in front of a bus like he owned the street, ignoring Anastos's pleas to stop. So instead Anastos talked to Beatriz Rivera, 13. Though she sang, "Wah, wah," as they walked, she was more attentive. Anastos offered to find her a voice teacher. She listened and kept on singing. She is the girl he'd made stilt-walking leader for her good attitude.
At a shop table outside in the sun, after a cup of vanilla with rainbow sprinkles, Lopez bragged about Anastos's bravery - he once broke a mugger's nose. Then he talked about his stilt-walking, which was his own kind of bravery. Months ago, after Lopez had fallen twice, he sat to the side of the second-floor ballroom-like room while the others practiced.
Anastos had held the hands of some of Lopez's friends who were still wobbly. "Don't be so stiff. Don't forget to breathe," Anastos told them. Some, who got the hang of it, swaggered. A few clung to the walls. Lopez only waited and watched. Anastos tried his no-pressure technique. "If you want to, try it again," he said. A week or so went by. As the boy's friends got better and he noticed some who seemed worse at it than he was, Lopez strapped on the stilts again.
Five of the stilt-walkers marched, danced, and twirled flags in the New Year's Eve First Night parade and the Jamaica Plain Tropical Fiesta in March. By the last performance of the year, nine were ready to perform. Lopez was in sparkly white pants as long as the stilts and stepping in the parade for the May Day affair called Wake Up the Earth. His self-assessment: "You was walking a lot and everybody was looking at you." How beautiful, thought Anastos, to see all nine stilt-walkers in their pink, blue, purple, orange, red, yellow, green, black, and white pants walking tall down the streets of Jamaica Plain and Roxbury.
As May turned to June, the long-running after-school program proved to Anastos, 41, that he has found the right career to replace the advertising work he used to do: He was meant, he now knows, to teach kids.
A former art director, Anastos left an ad agency in the early 1990s, started an art gallery, joined Spontaneous Celebrations, and four years ago was taught to stilt walk by a Brazilian friend. On stilts he can get people's attention and he likes that. "You feel like you're in your own little world," he said.
He's now in charge of teaching art to kids. The middle-school kids, all black or Latino, made the bright tissue-paper-covered lanterns out of soda bottles for the annual fall parade around Jamaica Pond. This year Spontaneous Celebrations won a $5,000 award for its success at keeping kids off the street. Next year Anastos's goal is to keep activities running five days a week year-round. This job, he said, lets him be true to who he is. He likes to play. He likes to twirl flags, walk on stilts, make puppets, giant bubble blowers and hula-hoops. This job lets him.
Lopez let a day pass before he came to visit Anastos again. While he went up to the ballroom to fetch his stilts for another walk in the park, his friends stayed downstairs and pestered Anastos for more ice cream. He responded with some teasing. "Next year in the program everyone has to have bald heads," he said, to hoots from the boys.
To Hector Tizarro, who was sucking on a red lollipop, Anastos said, "Pretend it's a big vanilla ice cream."
"George is being stingy with tickets," Alwyn McLeod griped without great seriousness.
"I'm going to remember that and start being stingy right now," Anastos said.
Alwyn thinks Anastos is a good teacher. From stilt-walking, McLeod learned to try new things and not back out. He was proud of himself at the last festival when people smiled and waved. "I felt like the president," he said.
Lopez, who often seems grumpy, came downstairs and threw his stilts on the floor. Anastos made him check the tips. Some of the rubber was coming loose so Anastos wrapped extra tape around the sides of the stilts. Lopez complained.
"I'm not walking on tape," he said. He was afraid he'd slip and fall. "You bust your head open," he said.
Anastos assured him he wasn't putting any on the bottom.
"It's about trust, Jomar," he told him. "You're pretty good for the time you've been on them. You should be very proud."
Lopez put his socked feet into the boots bolted to the stilts. For extra security he wrapped Ace bandages around his shins and the stilts. Then it was time for Anastos to wrap tape around the bandages. Lopez warned him to be careful. "I got hairy legs," he said. Before he finished the taping, Anastos peered closely at his legs. He found three little strands, and burst into laughter.
"That's not tight," Lopez said.
"Now you're being a wise guy because it certainly is," Anastos said. "I'm about to just forget this because you're being a big pain."
Together they walked out, Lopez ducking under the doorway. Carefully the boy stepped across the gravel drive.
"I'm right in front of you if you need me," Anastos said.
Lopez brushed tree branches away from his face and put his hands in his pockets as they walked toward the park by the Stonybrook subway station.
"I feel good," Lopez said. He broke into song, "Doo-doo-doo-doo."
At the park, Lopez waved to a man on rollerblades. "How are you doing, sir?" he asked.
The man ignored him and skated away. Lopez put his hands back in his pockets and stepped around between the concrete path and the grass, which had scared him at first because it was soft. Lopez caught the hula-hoop Anastos tossed.
Later, tired, he sat on a stone balustrade. Four girls caught up in conversation walked up the steps. "How's it going?" he called to them, still hoping for some attention. One gave Lopez a perfunctory, "OK," as they walked off.
Lopez raised himself up. He had had enough. He asked Anastos for an ice cream coupon. But Anastos had already doled out nine coupons for him to share with his family. Lopez and his brother had kept them all.
"You guys got really greedy," Anastos said.
Lopez frowned all the way back to Spontaneous Celebrations, ignoring Anastos when he said, "Good job."
He didn't even seem to notice as a woman at the corner looked up with a marveling smile as he passed by.