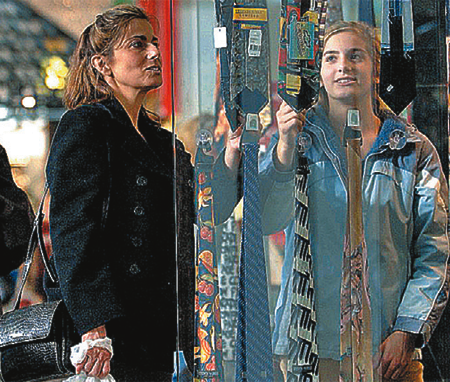 Planning is everything
Post-Thanksgiving shopping is a demanding enterprise


Buffalo News




Saturday, November 26, 2005




Section: News Page: A1

To make sure she could get out of the house without waking her four young sons to get in line at Target in East Amherst before it opened at dawn, Linda O'Brien slept restlessly on the couch with her clothes laid out beside her.

For her annual shopping trip with friends the Friday after Thanksgiving, she woke at 3:52 a.m. out of worry that she didn't have her ads in order for the sales. People who aren't fast enough lose out. She had to be organized and methodical. Stores have limited boxes of 100 piece magnetic building sets for $29.99 and 20-inch flat-screen TVs for $98.

"It's pretty crazy," she said of the day's quirks and the planning required to take advantage of them.O'Brien calculated that she would spend some $500 of her $3,000 budget at her first stop -- a little bit more than last year.

Analysts say this extra spending will also hold for millions of shoppers who begin stockpiling their holiday gifts the day after Thanksgiving. Last year, the kickoff shopping weekend accounted for $22.8 billion -- a figure expected to be eclipsed as the entire holiday shopping season is predicted to climb by 6 percent this year, according to the National Retail Federation.

Online shopping, an increasingly important part of the holiday retail trade, was also expected to increase by 20 percent, and extend
the Thanksgiving weekend shopping rush further into Monday. "There are options for consumers this year who might not be able to do everything by Friday," said Ellen Davis, spokeswoman for the retail group.

Stores made sure they would be busier than usual Friday by offering special early morning sales along with $10 coupons and charge card discounts designed to get people to start buying now.

The sale ads that came out this week are what guided O'Brien through the whole Friday-after-Thanksgiving process as she phoned her friends to figure out what to buy and where. For the last 12 years, the hunt for such treasures as Star Wars light sabres for $22 and a car DVD player for $50 less than it was last year make O'Brien love this time of year.

"We've always done it," she said earlier in the week as she made plans to shop. "So we will always do it."

Before O'Brien, a full-time mom, walked out the door at about 5:15 Friday morning, she gathered her shopping equipment. Walkie-talkie for quick storewide communication with her shopping friends without wasting cell phone minutes. Orbit peppermint gum for energy. Credit cards. Thick black sweater for standing in line in the biting cold. The newspaper ads with sale prices to be used for reference and discount bargaining as she made her way from Target to Wal-Mart to Toys 'R Us, Dick's Sporting Goods and the mall.

By 5:40 a.m. after taking three Motrin to keep away any stress headaches, she left her Lancaster driveway and arrived at the Transit Road Target store, where her friend Mary Saskowski was already standing in a line that snaked along the edge of the building.

"I'm wondering what they want that I'm missing," O'Brien said as she scanned the crowd.

Later in the day the Eastern Hills Target store manager would give part of the answer by declaring the morning had gone well with sell-outs including the discounted "video" rocking chairs to sit in while playing games, toy dogs that light up when iPods play and a stuffed bear that can be drawn on. "We're doing very well today," said store manager Amy Blake. "Just very busy. Toys and electronics, extremely busy."

For O'Brien and Saskowski, shopping the Friday after Thanksgiving is a tradition they've already passed on to the next generation.

Saskowski's daughter Julie, a college senior, decided to get up at 3:30 a.m. even though there wasn't much she wanted to buy. "I've been doing this since I've been in fourth grade," said the 21-year-old, who helped pilot O'Brien's cart while her mother and father teamed up. "I get to bond with my mom."

Pairing off and splitting up is part of their system as they scout the store to find the toys and DVDs they want.

Saskowski, who has a 15-year-old daughter and a 10-year-old son, buys what O'Brien tells her because O'Brien is known for being good at memorizing and comparing prices. "I just pay for all this stuff and then I wonder why I'm broke," said Saskowski, smiling as she pushed her cart.

O'Brien shopped fast, crossing off a list as she walked. She piled four light sabres into her cart and another shopper pointed out that the black Darth Vader capes on the rack nearby were free that morning with every sabre.

"Don't forget the capes, hon," the woman said before walking away.

As O'Brien moved, her shopping cart filled with boxes from the basket to the bottom rack.

Her walkie-talkie buzzed. Saskowski wanted to know where they had the game boards that made pictures with little light pegs. "They must be out," O'Brien radioed back.

She grabbed plug-in TV games of Spiderman, SpongeBob SquarePants and Star Wars. They were $10, not their usual $14.99. Good for stocking stuffers. Saskowski called again. She couldn't find the Barbie pet dog doctor kit with plastic stethoscope. O'Brien investigated and found one by peering into a crowd of women at the end of an aisle. They, too, were after the toy that came with a barking stuffed dog.

By about 6:30, the cashier tallied up a bill of $869, with a 10 percent Target credit card discount.

O'Brien calculated she saved $200 or $300, even though she spent much more than the $500 she had predicted.

But this, she explained, is part of what makes Christmas fun. She buys for birthdays and holidays ahead. She likes shopping with her friends. She likes how some who don't shop know to come to her house and buy her extra toys. And she likes adopting families in need and buying for them with the help of a nun at St. Mary's Elementary School in Lancaster, where her sons are enrolled.

She's not that interested in gifts for herself. "I don't need anything," she said. This shopping for others is her real Christmas wish list, she said as she paused to sort through receipts and eat an egg sandwich at Manhattan Bagel. "I'm already thinking of Easter."