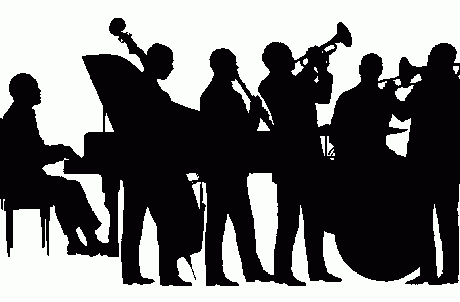 Time Changes, Music Remains
Gathering Story Series
BUFFALO NEWS

Monday, January 3, 2011
Section: Local News
The big band of 14 musicians on piano, saxophone, trumpet, trombone, bass and electric guitar was playing "In the Mood" during a nightly rehearsal. They were loud, brassy and tight, with beers at their feet. Christmas garlands hung in loopy cheer behind them.
The doorbell downstairs buzzed with visitors on the street wanting in. Singer Melissa Kate Miller, wrapped in a sweater, read the paper between numbers. One day, she wants to tour.
George Scott, in a red shirt with a big lion at the center, had two things in mind as he moved in a wriggle from his conductor's perch at the Colored Musicians Club.
For one, the George Scott Big Band had two gigs this month. He wanted to play well and dignify the generations of jazz musicians who have hung out at 145 Broadway since at least 1944.
That's when the club of the now-defunct black musicians union—founded in 1917 when white unions wouldn't take blacks and union membership was essential to work in better clubs—bought the two-story brick building. Now it is a city landmark, has been proposed for listing on the National Register of Historic Places and, said Scott, is one of the nation's longest-running clubs.
The band's music poured from the bandstand toward the old, worn bar, where jokes and stories are told. The joy of camaraderie is the second thing Scott has in mind when he rehearses for gigs that don't come often enough to constitute a full-time career.
For reasons of both music and fellowship, the club is why Scott, 53, never wanted to leave Buffalo.
The door buzzed impatiently. The band kept playing. Scott peered through a peephole down the stairs. The people looked all right. He buzzed them in.
When jazz was hottest in the 1940s and 1950s, it was harder to get in. Lines would snake around the corner with fans who had hopes of seeing and hearing famous players. Miles Davis, Thelonius Monk, Billie Holiday, and Sarah Vaughan came here to unwind, play cards and jam after closing time.
Some whites played, too, said Scott, but in the old segregated times, the club was a black hangout.
By 1969, the age of Civil Rights, the black and white musicians unions merged, rock and roll took hold, and the jazz of the old club began to fade.
"With the change of the music," Scott said, "there weren't a lot of kids of color picking up jazz."
The drafty old barroom, with the bandstand at one end, has a disheveled, homey look with ceiling tiles that droop from their frames as if trying to set themselves free.
They are a forlorn sign that the old membership rolls of nearly 300 that once included Louis Armstrong—in one letter saved by the club, his wife apologizes for being late with their $8 dues—have thinned to about 100 who now pay the $35 annual dues. Members are in one or more of the six big bands and 16 little ones that now practice on different afternoons and nights. They buzz in anyone who wants to have a drink and listen.
"To get the word out and get yourself heard, this is the place to do it," said Tim Jarmusz, on trumpet, a Marine who now serves with the National Guard.
Scott's band includes younger men who learned to play at the club, which still hosts lessons for kids, and older players. There are five blacks, including Scott, nine whites, one Latino and a minister, a band teacher and a dentist among them. The increased mix of colors at the club is one of the good things about the change in times, said Charles Reedy, 79, a member since 1947.
"That's the way it should have been all along," said the retired Union Carbide electrician and public school Industrial Arts teacher. "We're people. That's all."
Before rehearsal started, Scott handed out envelopes with pay from their last gig and poured drinks—and teased in deadpan. Reedy smiled at the flak for wanting a non-alcoholic beer.
"Are you serious?" said Scott. "You going to see a woman?"
After Scott kidded that the drummer was a degenerate, he asked for whiskey.
"I'll have a Jack on the rocks because of you," said Karl Kozlowski, 36, who learned to play drums here as a teen. He tried playing in a polka group, "but my heart is in big band jazz."
He'd set a paperback of the Dalai Lama's "Art of Happiness" on the bar. "It's my second time through," he said. Now a Ph.D. who teaches exercise science at the University at Buffalo, he liked the book's point about how everyone is connected.
"That was very profound," Scott joked before the men took their seats and he began to lead them through old Gershwin tunes and even the theme song to the animated TV series "Family Guy."
Miller sang loud, confident, clear—"Looking everywhere, haven't found him yet " and "He's nobody's fool, so we're playing it cool as we can be"—until Scott led the last instrumental blues song, one that left room for each musician, including the boy on a saxophone, to take a jubilant solo.
By 10:30 most everyone was gone—"See you next Monday!"—and Scott stayed behind at the bar for the other important part of being at the club.
Reedy and Les Davis, the band's piano player, reminisced. They used to say if you have a good band, don't take them to Buffalo. Defection was common in the midst of so much talent and opportunity to play for pay.
So was showboating. Sax-playing friends playing at clubs across the street from each other once made a deal to solo at the same time, walk out, switch places and carry on. Horn players, including Reedy, used to walk along bar tops playing.
"If you didn't get your drink out of the way," Davis said, "you'd lose it."
With the National Historic Trust conference coming in October, Scott has focused on plans to chronicle some of this history in the $1.1 million museum going inside the old union office downstairs.
He will worry about the upstairs bar later.
It has long been missing some of its classic features. The old wooden phone booth with phone numbers carved into the grain was taken out some time ago. The old jukebox is gone, too. The better musicians used to turn it up loud when they wanted to drown out someone who wasn't worth listening to.
In a way, said Davis, the old club doesn't exist any more. Except in some hearts and minds.