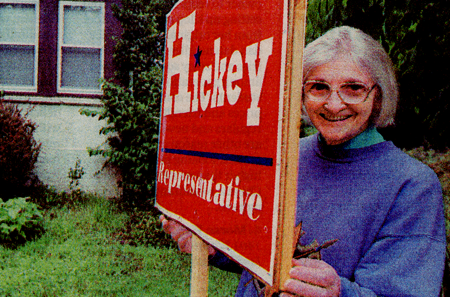 FOR WHOM THE POLS TOIL
Ward 20 voters are the votingest - and politicians know it
Boston Globe
Sunday, September 8, 2002
Edition: THIRD, Section: City Weekly, Page 1
In her almost 50 years as an American citizen and West Roxbury resident, Eileen O'Driscoll has never missed an election. "If you didn't vote it was like not going to church, and back then it was a terrible crime," said O'Driscoll, who learned as a girl in Ireland that people who didn't back the right political party didn't get jobs.
Her neighbors in West Roxbury treat democracy with the same seriousness - and many reap the benefits.
One Gould Street neighbor, Judy Arthmann, puts it this way: "We think that we own the city."
Political experts tend to agree. Ward 20, with its neat one- and two-story houses, traditionally boasts the highest voter turnout in the city. West Roxbury lives for candidates, political gatherings, lawn signs, contender-pitching stints in the Centre Street rotary. As a young woman, O'Driscoll felt democracy's power at a rally when she and her family were introduced to a campaigning John F. Kennedy with the line, "There are nine votes in this house."
For state Senator Marian Walsh, who is running unopposed this year for reelection, representing more voters who vote means spending more money - on stationery, stamps, phone calls - and delivering. To see the signs of the political clout that go with heavy voter turnout, Walsh suggested looking near the VFW Parkway.
The Millennium Park with its soccer fields and nature walks opened last year on top of an old city dump. The recently refurbished Bryant skating rink cost hundreds of thousands of dollars to repair. Brook Farm, site of the 1840s transcendental commune, was rehabbed in the last several years. And there is open space where a parkway real estate development was quashed years ago, as some voters wanted.
Walsh says attentive politicians know to get voter lists, find the ones with voting records, and pay attention to them. When time is limited, it makes more sense to devote stamps and phone calls to people the city lists as active. This means running a campaign in a district that includes most of Ward 20, which also includes a slice of Roslindale, is a lot of work. And after her first election, to state representative in 1988, when there were six competing candidates, as there are this year, the voter tally was emphatic: She won with more than 8,000 votes after 80 percent of the voters voted, an unusually high-interest election year because then-governor Michael Dukakis was running for president.
"I saw how much people cared. I saw how they felt. It mattered," said Walsh, a West Roxbury resident.
Lou DiNatale, a pollster and New England political history professor, says Ward 20 has an advantage. Its residents can see the benefits of voting - lots of well-tended parks, for example - so they keep voting. Residents in poorer districts with fewer amenities have less incentive, he said. "They don't get anything out of politics," said DiNatale, who teaches at the University of Massachusetts at Boston. "There's no return."
In the last four years the lowest voter turnouts in the city have been in: Allston-Brighton's Ward 21 in 2001, Dorchester's Ward 15 in 2000, Roxbury-Dorchester's Ward 14 in 1999, and the South End's Ward 8 in 1998. Ward 20, however, is part of a Boston tradition that includes Wards 6 and 7 of South Boston.
"West Roxbury and Southie represent the absolute pinnacle of Irish urban ethnic politics," DiNatale said. West Roxbury contains the traditional indicators for high voter turnout: high single-family home ownership and residents employed by the city, state, or federal government. The Irish prevalence helps, too, he said. Jews traditionally vote the most frequently and Irish the second most. "Then everybody else," said DiNatale. Candidates, such as Walsh, who come from a strong voting ward, have an advantage.
"Wards that turn out like these wards do - long after they shouldn't have the kind of influence they have, they continue to have it," he said.
A handful of signs on O'Driscoll's street of trimmed hedges and fenced lawns hint at the political power politicians cater to. This year O'Driscoll has put out a sign for Democrat John Hickey, one of six running for the open state representative seat. She offered to help when at a party in January he told her he was running. She's talked him up to 25 or 30 of her friends. "It's a game," said O'Driscoll. "It can be very dirty and very rotten." One year when her car with a candidate sticker was parked on the curb next to her house, her tires were slashed.
A few weeks before this Sept. 17 primary, her red Hickey sign was in a minority of one along a few blocks of this street. Michael Rush, another Democrat, had two. Judy Arthmann said she had one of his red, white, and blue signs in her yard because she knew Rush as a boy when he went to school with their children. She remembers him saying, "When I grow up I'm going to be a politician."
Already "because of Mike," she and her husband, a Boston police officer recovering from surgery, have talked about getting an absentee ballot in case he's not well enough to go out and vote in the primary.
Like O'Driscoll, the Arthmanns don't miss a chance to cast a ballot. Her husband, Phil, ticked off a list of young people he knows who he doesn't think vote. Older people tend to be better voters, and there are a lot of older people in West Roxbury, he said.
But the blue Dan-Conley-for-district-attorney sign down the way on Lorraine Peruzzi's lawn says nothing about her voting habits: "I don't," she said. The sign is a favor to the candidate. For the last month she's been thinking of taking it down.
The concrete sidewalks around her lawn are the real sign of her political activism. Someone came by with a petition to upgrade the street's asphalt version to concrete and she signed. The new sidewalk makes her property look better, she said, and her daughter can ride her bike on it more easily.
Her parents, who are Italian immigrants, do vote, she said. Peruzzi said she might one day. Maybe. She smiled at her inclination not to, particularly in such a vote-heavy neighborhood.
"I'm exercising my freedom," Peruzzi said, "of not voting."