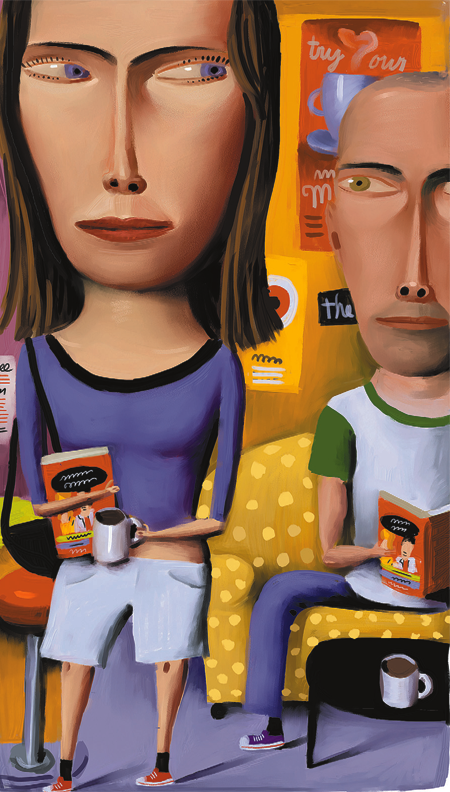 WRITER'S Perseverance REWARDED WITH HOPE
Buffalo News
Sunday, May 1, 2005
Section: LIFESTYLES Edition: FINAL Page: F1
Two months and seven dates in, and I wanted out. It was too expensive, too distracting, too annoying.
I would officially resist pressure to have a drink with so-and-so "great guy" who a friend would date if she weren't taken.
No more prospects from the dating service, either. I was too picky. ("So is weight really your No. 1 priority?" the operator asked.) They'd cancel the contract, and my complaints that their matches were all wrong would end.
One guy talked of whirlwind shopping in Rome, and I sighed inside. I dreamed of Italy's wine, pasta and golden hills. I'd ogle statues, not leather boutiques.
"Who was I after?" the dating service operator asked. How about a movie star analogy -- Johnny Depp's soulful eccentricity? Joseph Fiennes' distracted genius in "Shakespeare in Love"?
She laughed. If their doubles walked in, she'd call me and all the other women on her client list.
My old date-free existence returned with the bland comfort of a soft-boiled egg at breakfast. No longer would I sip an $8 glass of wine and sneak glances at my watch while a portly man talked down to me about the difficulty I'd have understanding his scientific job.
It was true. I wanted to think about other things: Tennis. Yoga. (I'm no Anna Kournikova, but I work out. Why couldn't my dates?)
My memory of interviewing patent lawyer Michael Lasky persuaded me to slog on. I was writing about the dating guide he wrote with his fiancee. (One section covers "What to do if you get bamboozled.") The book said little about his romance, so I asked.
Meeting and dating wore Lasky out, too. He came across movie stars, lawyers and doctors. After a year and a half, the then-48-year-old had nearly quit looking when a dermatologist from Atlanta e-mailed him. For months they wrote. By their first date, she was so unrecognizably lovely, he walked by.
He went on to research the book and conclude that a smart 30 percent -- 20 million people! -- of eligible daters go online. Why pay for a lunch, when $30 could buy e-mail with dozens?
But Lasky wouldn't say which service worked for him. So I tried four. Just in case. My Catholic friend and her Jewish fiance, urged Jdate. But I couldn't bring myself to pay. Most wanted Jews. Not theoretical Quaker-Episcopalians.
One morning vanished as I registered with a service women friends buzzed about. Answer 436 questions and the psychologist founder promised compatibility.
At the end the analysis warned my bluntness may shock. The computer could deliver a man who wanted that?
And for two months, matches did rush in. Five times a day. Sometimes twice. Sometimes every other day. Michael from Buffalo. Vincent from Pennsylvania. Paul from Ontario.
Before e-mailing and showing pictures, we picked questions from lists. Such slowness had an aura of safeness. Get angry often? Like to cook? Able to mingle with strangers? Of what are you most proud?
They wondered what I thought of wealth. (Don't mind it.) How did I dress? (Fake gumball-sized pearls. My mother's frayed college sweatshirt. It depends.) What did I find attractive? (Kindness, confidence and wit.) Am I on time? (Yes. Except when late.)
There was a sweet-sounding cop from Rochester who held his daughter with blond ringlets on his knee. A guy who posted four pictures of himself cradling the same bug-eyed fish. A factory foreman wanted a woman to join him spreading the good news about Jesus.
An out-of-work radio anchor. Divorced men, never-married men. A deeply dimpled lawyer claimed his elder colleagues turned to him for advice when he wasn't out running marathons. A muscled personal trainer from a Pennsylvania town I never heard of posted pictures of his face with and without a Santa beard.
Most were too far out of my ZIP code for a casual meeting. Bored, I began to type this in, no matter what the question: "Would consider a summer country place. Prefer city living."
Men started to click the "I'd-like-to-stop" button faster. Red Xs went both ways and multiplied. By the time I let my subscription lapse, I had 81.
With even less success, I sampled the less-regimented Nerve.com and its cheeky questions. Most humbling moment for one 39-year-old teacher? Waking up to bears in a dumpster. The reason to get to know him? "I am a paradox who revels in his own quirkiness." Yet, the paradox couldn't live without cigarettes. Nor would he date women his age: he sought 35 and under only.
As for 40-year-old me, one correspondent wondered at my answer to the movie star I resembled. A bald Sigourney Weaver in "Alien"? Or, as possessed by the demon in "Ghost Busters"?
Neither!
Lasky warned passivity goes unrewarded on the Web, so late one night, I sent "smiles" with abandon. Every man within 60 miles who posted a profile with a thing or two I liked, I sent a free smiley face. Return smiles followed. E-mail ensued.
I told one guy that I'd never heard of his favorite author. Days later two gift-wrapped editions by the 13th century Afghan love poet arrived in a box. Next came long late-night phone calls from the soccer-player-turned-real-estate mogul.
Conjured up by computer keystrokes, like a genie out of a bottle, he drove here one night and waited at a restaurant bar. Brown eyes and handsome. Better looking than the picture. Charming at dinner. Ordered French wine and Evian water.
As commoners around us drank tap, he talked of Zanzibar's spice markets. Raved about the flourless chocolate cake. Wore cuff links made of typewriter keys to honor my profession.
But women made him wary. His ex hired four divorce lawyers. Their unfinished business was still in court. (Could they reconcile? "Hell would have to freeze over. Twice," he said icily.)
Dating this way made me wonder. For this stranger I spent time mulling over why I yearned to visit Iceland's hot springs. I chose the people I'd like to dine with. My Mark Twain, Tom Wolfe and great-grandmother to his Mahatma Gandhi, Bob Marley and John Lennon.
Interesting thinking. Exhilarating talking. Amounting to nothing.
He said this before he drove home to the city he'd come from: "Men are jerks."
I deleted my profile. (Taking breaks avoids burnout, Lasky said.) The holidays passed.
Recently, I looked through old messages to find reason to try again.
There was a gentle South Asian who collected Chinese ceramics. Their fragility reminded him of childhood Buddhist lessons that beauty and life are ephemeral. But we exchanged pictures and found we could agree on the loveliness of old pots, not each other. Shucks.
An international banker wrote of the organic grocery he opened on a Caribbean isle, the novel he was trying to publish and his interest in getting in touch this summer. But he wrote in the winter. Sure. Like I would wait six months.
Another suggested we compare the moon -- a symbol of love, he'd said -- as it looked one warm autumn evening from our two separate cities. At 4 a.m. his woke him with an orange glow. To see mine, I had to get past the leafy trees blocking my window. I walked out the front door and looked up.
These men had turned out to be unexpectedly intriguing. What I saw of the moon that night as I stepped outside seemed to promise more.
Its center was obscured in a temporary way with tufts of gray cloud, the curved edge gleamed white like some treasure in the sand.