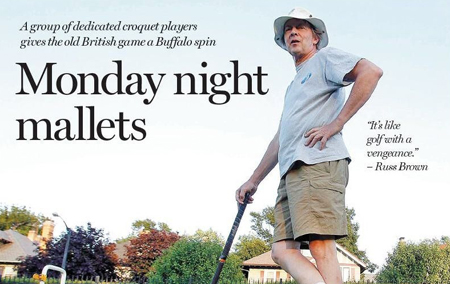 Monday night mallets
Dedicated croquet players give the old British game a Buffalo spin
Gathering Story Series
BUFFALO NEWS

Saturday, August 11, 2012
Section: Lifestyles Page: C1
One of Russ Brown's favorite parts of croquet is the middle-to-end part, when there's still a chance of turning things around in the game. That's about where he was on a warm summer evening at Delaware Park, on the groomed green grass behind the hedges that are just tall enough to block the view from Parkside Avenue.
Two other players, with long-handled competition mallets that swing like pendulums, had balls closer than his to the striped goal post.
The sun had set. The lights were on. Brown, the only champion-level player among them with a U.S. Croquet Association listing, hadn't yet exhausted his magic moves. He can make one ball jump over another without touching and hit two balls so they sail off in different directions, as if making a V for victory.
"We're all trying to beat him," said Bob Gannon, whose croquet set—a wedding present—was what got this Monday night croquet club started 21 years ago.
"He doesn't win every game," said Paul Strada, who joined six years ago after he'd quit playing golf in frustration, for the fourth time.
As their quirky Buffalo-version of the old British game unfolded, some of the 10 or so regular players were in bare feet to better feel the grass—a lush, green oasis in a dry summer.
Playing at first in Griffis Sculpture Park in Ashford Hollow, in cemeteries and then, finally, the park, they developed their tradition, a combination of backyard and USCA rules. Their zeal revived an old bowling lawn near Parkside Lodge, a plot nearly turned into a dog park.
Now it feels like a private club. About a decade ago, an anonymous donation from a local foundation paid for new sod, lights and a wrought iron fence.
For now, the aristocratic sport of croquet remains obscure and has yet to win as much public affection as Olmsted Parks, and Brown, would like. Monday night reservations aside, the $25-an-hour, lovingly tended field, with room for two to four games at once, is rented about a dozen times a season.
To help more players appreciate the beauty of the game, Brown is willing to give lessons and to set up an introductory program. "I think Olmsted would be happy if several clubs played here," he said.
Brown, who lives in West Falls, found this little croquet universe when some of the players came to a tournament at the St. Catherine's Croquet Club, where he used to play. Seeing their game was like discovering a strange and interesting tribe from some far away place, he said.
The Monday night players sometimes call themselves the Buffalo Croquet & Debate Club, after their penchant for arguing about plays. Their game is a mix of the backyard nine-wicket course, with thick, custom-made tournament-style wickets replacing the original, flimsy wire hoops. Teams are chosen by pulling nametags from a black bag. Two courses are set up side by side, and rounds last 47 minutes because 45 was too short and an hour too long. This way there's time for everyone to play a few matches in an evening.
Their game works, Brown said. Players get to take more shots than in the USCA version. "That's kind of the beauty of croquet," he said. "You can adapt. It's a malleable sport."
On the grass
Brown, 64, with tufts of gray hair poking from beneath a wavy brimmed hat, has a calm intensity. He has been playing croquet since about 1967, when he and some high school friends bought a Sears set, got stuck on something the rules on the box didn't answer, rode their bikes to the downtown library to get an official croquet book and then went back to Front Park. Soon they were trying a more advanced "six wicket game" that lets good players move around the court more quickly and extends turns for 20 minutes.
Retired from practicing insurance law—"as dry as it gets"—he likes tactics: Croquet combines the hitting angles of pool and the strategy of chess. For years he and an old Hutch Tech friend, now president of the North Toronto Croquet Club, carried on annual duels that included ordering equipment from Jacques of London, the store owned by the family of a 19th century game promoter.
In the interest of finding new ways to beat his old classmate, about nine years ago Brown joined the USCA and went to a three-day school at the headquarters in West Palm Beach. He soon began traveling the world, from Vancouver to New Zealand, playing tournaments. And collecting the small prizes of croquet. A $50 first place. Clock trophies. Once, a small engraved silver cup with a fox head from games held on an old Ontario hunting estate. And, more recently, the mirrored disco ball from an end-of-season Monday night tournament.
"I have a theory," he said, "that winning's important to me."
Wider interest
Parks President and CEO Thomas Herrera-Mischler would like to see more people play. Perhaps during the free live jazz on Fridays in the Parkside Lodge where the new Tee Cup Café now has a liquor license?
"Certainly they're happy to cater any croquet-themed event," said Herrera-Mischler. "I'm really eager for more people to enjoy and use the croquet lawns."
Croquet can be a hard sell. "Only a limited number of people find it fascinating," Brown said. "Nobody watches croquet, because it's boring."
People think of the old backyard game as a pastime for kids. To appreciate it as a sport. Brown recommends play and time. One of his favorite aspects is the way a player gets the power to knock opponents' balls down the field. "It's like golf with a vengeance."
The sport had a 19th century peak in popularity that included an 1882 convention in New York City to adopt U.S. rules. Now the U.S. Croquet Association has about 3,100 members, an annual collegiate championship and an influx of people playing "extreme croquet" with course challenges through water, trees and hills.
"We're slowly growing," said Johnny Mitchell, USCA president, "but it's not a huge spurt."
He mused about its charms. Games are shorter than golf. Rounds involve more players. There's camaraderie.
"A lot of people play the backyard game as they're growing up and they get hooked. People get drawn in by friends," said Mitchell. He got into the game in his 30s at a friend's tournament and later married a USCA staffer.
"Younger people can compete with older people. There's no advantage to age.... It's a very social game…. When you get together for tournaments there's always parties involved. It's just a really good way for people to come together," he said.
Making history
In Buffalo, there's not much local history: the Olmsted archivist did not find any references to it in the 142-year-old park's papers, save a 1914 postcard of men in boater hats lawn bowling on what is now the croquet lawn. The Albright Knox Art Gallery does own, but is not displaying, an 1863 Winslow Homer painting of women, in full skirts and hats, arranged on a lawn, looking genteel with mallets in hand.
On this warm summer Monday evening, the players, business types in their 50s and 60s, wore T-shirts and shorts. Some paused between turns and sat on the old benches or talked on the grass by the fence.
"It's just a little break before the week really begins," said Brian Conboy.
Strada used a trick Brown taught him and sent two balls through a wicket: He and his teammate got closer to the striped goal stake.
It was looking unlikely that Brown would be able to turn things around. He tried to hit someone and just missed. His yellow ball went wild.
Under the lights, the field glowed green, bright and inviting.
The Monday nighters' mallet skills are so good that Brown thinks they should go to the croquet Mecca—West Palm Beach. "I would love to take these guys to tournaments."
Gannon answered his cellphone, said, "I'm in the middle of a game right now and it's my turn," and then missed his shot. When he came up again, he got a second chance, tried again, and sent his ball to the winning end of the field, near the shopping cart with game gear and a bag of community pretzels.
He smiled at his victory. Their peculiar game is, he said, one of the beauties, and freedoms, of living here.
His wife thinks the la-tee-da sport is silly. He thinks of it as poor man's golf. In Buffalo, people innovate out of necessity. Sometimes when they do, Gannon said, anything seems possible.
It's just a matter of whether you want to venture and do it. This summer, they decided to extend their season an extra month. So the players will keep coming together Monday nights before a final tournament in September decides who gets to keep the disco-ball prize until the games and croquet magic of next season unfold.