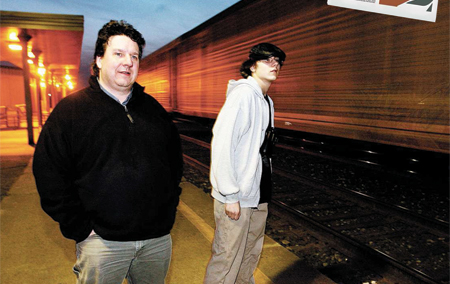 A railfan's watering hole
Gathering Story Series
BUFFALO NEWS

Monday, March 22, 2010
Section: Local News Page: B1
After dinner at about 7, Jim Fitzery has made a habit of walking into the small Depew train station with his radio scanner, a takeout box of dessert -- lately lemon cream cake -- and good humor.
By the time he arrives, he is ready for the languid conversation that fills in the lulls between the excitement of rushing trains clattering by. Most of his railfan friends are already in the usual spot by the window facing the tracks.
"Fitz is here!" one of them called out one recent evening. He looked around with bemusement. Someone wanted him to talk about a possible romantic prospect who commutes by train from Niagara Falls to Walden Galleria nearby.
"She travels by rail everywhere she goes," said Fitzery, 67. "I'm widowed now, and they're trying to line me up."
The station with its fluorescent lights, easy-listening rock playing softly from the speakers and cheerful ticket-window clerks, has incubated an informal club that has no name, no dues and no officers. Membership is open to anyone willing to take a seat in one of the plastic chairs with splotched gray upholstery.
The 20 or so regulars have created a family of sorts.
"It's kind of boring, staying home when you could be out watching trains," said Dorothy Hunt, who sometimes sits with her hand slipped in the crook of her husband's arm.
People stay for hours, sometimes past midnight if a train is late, and listen to each other's stories. They look after the Dick Road Amtrak station as an adopted friend. They paid to install four benches outside. One planted flowers by the sidewalk and platform. Inside, Fitzery hung on the wall an old black-and-white aerial photo of Buffalo from the 1930s, when there were about five stations.
And they talk about trains. The way they remind people of a bygone time. Their speed and power. The interesting things inside the cars: corn syrup, lumber, ethanol, the circus train with animals that comes once year.
"I just came out here, and I sat down on the bench with the guys and started listening," said Jim Sherman, a model-train collector and retired snowplow driver and operating engineer for the City of Tonawanda.
On a recent evening at the end of a warm day that felt like spring, there was still light in the sky as he stood with a few men at the end of the tracks sipping from coffee mugs and waiting for trains.
Coming here is a good excuse to get out of the house, said Bob Thielman, who befriended Sherman about 15 years ago.
"We try to solve the world's affairs," said Thielman, who had already come from Lancaster earlier in the afternoon. Eight times back and forth on the sidewalk platform by the tracks, and he's gone a mile. "It's nice to walk," he said. "If a train goes by, it's a plus."
The group has an annual Christmas dinner and a poet in Hunt, a homemaker and mother of two grown sons. ("Trains carry freight and people and things/ But happiness is what being at the train station brings.") There are Depew railfans who volunteer at Buffalo's Central Terminal, where Hunt and her husband went to people-watch in the 1960s when they were courting. Most are men, some retired from jobs that involved making things, moving things and the area's old manufacturing core.
Each has a story about how trains first enchanted. From fathers and grandfathers who used to work in the railroads to the comforting sight of trains passing by the kitchen window with watch-setting regularity.
Fitzery, whose career included working as a chemist and testing iron at the old Hanna Furnace Corp., grew up on his grandmother's farm, which had tracks running through it.
After he married, his wife encouraged him to include his boyhood fascination with model trains in their new life together. She liked watching toy engines run through the tracks.
Then about 20 years ago, someone in his chapter of the National Railroad Historical Society told him how the train-watching was good at the Depew station. He started going about once a week. About a decade went by before he decided to leave his car and go inside and talk.
After his wife died four years ago, he started going every day.
"People were out there strolling as railfans at any given hour," he said. On a recent evening, when the youngest member of the group -- Ben Wild, 14 -- walked in with his mother and took off his cap to reveal a new crew cut, Fitzery exclaimed approvingly. "Holy cannoli! . . . Did you bring your radio?"
Since Ben had forgotten his, Fitzery's crackled by itself on the windowsill broadcasting conversation between conductors, engineers and railroad crews about track changes and arrival times.
A passenger train was coming soon from New York City. People in the alcove started to get up and go outside.
It amazes Fitzery to think of all the people he has met here, touring this country by train from Australia, New Zealand, Denmark and other far-away places.
The railfans waited in the brisk night air. When people sleepily left the train wheeling their suitcases, Ben and Hunt held the doors.
Before long, a freight train came by. Fitzery stood close enough to feel its wind suck by as the rusted, rattling graffiti-scribbled cars tore away. Hunt held on to her cowboy hat and let her hair blow behind her.
"Ahhhaa," she said. "I get a charge out of that."
This made Fitzery think of how trains first thrilled him so much as a boy that he loved to unspool a long string and pull it through the fields, as if he were a train with freight cars making his own path.
He knows the others meant well by encouraging him to date. But he's not interested. Coming here every night to be with them is what makes his life good the way it is.