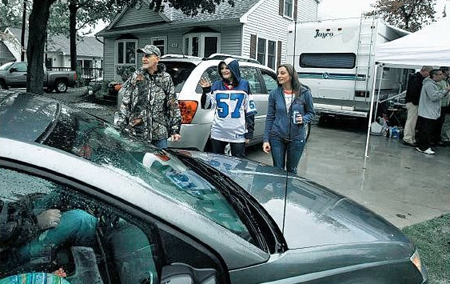 Testing a Timeless Tradition
Gathering Story Series
BUFFALO NEWS

Monday, October 11, 2010
Section: Local Page: D1
On Buffalo Bills home game Sunday mornings, Kim Steger usually starts hearing the music thumping and the hooting and hollering — "Go Bills!"—when she's still in bed. She rolls over, rubs the sleep from her eyes and says to herself, "Oh, my God. These people are crazy. They're here already!"
Just beyond her bedroom windows lies parking Lot 1, its 871 spaces stretching toward the main entrance to Ralph Wilson Stadium and its 73,079 seats.
For some reason, on the cold, rainy Sunday before the New York Jets game, the fans who started setting up grills and rain canopies as soon as the lot opened at 8 a.m. seemed quiet.
Maybe it was the weather. Or the disappointing, and usual, string of losses. After a decade of failing to make the playoffs, Steger can't help but think of giving up on her home game parties and the Bills. She longs for the golden years of the 1990s. Back then, with more wins, more Mondays felt good. People talked football more, ate out more and bought more cars from the dealer she once worked for.
Now, on some of the home game mornings each season, Steger wakes up and thinks, "I don't want to do this."
Thin, wiry, with streaks of blond in her brown bob, Steger has a wry impatience and a kind, maternal approach. When her preparations began Saturday, she couldn't help but threaten what she might do if her team lost.
"If they're not winning, I'm in the house," she said before driving off to buy supplies for the tailgate party she and her husband, Paul, have made a habit of throwing for family, friends and strangers inside their finished garage.
It is part of their routine of parking cars for $15 on the yard of the neat cape they've lived in for 23 years. The old team is still beloved in the modest, squared ranches and two-story houses on the streets of Oakwood, Allen, Glen, Fay and the Stegers' Pilger Place, off Abbott Road in Orchard Park.
People in this neighborhood, where the fieldhouse looms over back fences, bask in the game's hullabaloo, make cheerful accommodations and seize its opportunities from a muted, comfortable distance.
One woman planted hostas to keep cars off her lawn. Others rent port-a-potties so people won't use the grass for that. From temporary offices in open garages, people rent lawn space for $10, fitting in 10 or 20 cars or more. A bargain compared with the bigger, pricier $25 lots with condensed tailgating madness.
As Sunday morning's parties began before the Jets game, two young women in red and blue leggings, rain boots and Bills jerseys walked by the mums and pumpkins Steger arranged on her front steps. They giggled as they carried cases of beer to friends in the big lot beyond, where rain canopy shelters dotted the wet asphalt.
Bills flags flew in the chilly breeze. Tables, a few with football-field patterns, were spread with bags of cheese puffs, shrimp and cake. Meat sizzled on a grill perched on a red, white and blue patio built on top of a van. Men played a drinking game, trying to hold beer "poles" of taped-together, empty cans beneath a full one.
By 10 a.m., when two motor homes were already in Steger's drive—she marveled when 25 people once clambered out of one—someone wanted her husband to start organizing the parking.
"Tell the boss he's got a line. There's cars all over."
Maggie Wilson and her husband were settled in the Stegers' front yard, as cars parked in the grass around them. When the team is bad, she said, these mornings matter more. The fun they could control was in the bottles of hot sauce, dill and bloody mary seasonings that lined the rim of the open car trunk. Inside it, a small TV, plugged by extension cord into the Stegers' outlet, showed a golf tournament. A propane heater's blasts warmed visiting friends who just came for drinks and conversation at their cocktail table. "We haven't been to a game in four or five years," one smiled.
People collecting on the lawn, on the driveway, and in the house and garage included a Long Island visitor, keeping quiet about his Jets allegiance. This was better than home, where there wasn't a stadium neighborhood like this and fans seemed more drunk and prone to fights.
"Those downstate New Yorkers—it's a stressful place to be," joked Howard Schwartz, who tallied his intake so far: pepperoni and cheese, two whiskey shots and two beers. "Sometimes I try to slow my life down a little bit."
In the narrow space between an RV and the house, Steger spotted a car-parking friend she had known since the 1970s.
"My dancing partner's here!" she said. After the first home game, she and Nola O'Keeffe had joined a neighbor's party with a live band, anticipating this season might be different. "Those opening games are dangerous," Steger said, laughing.
By 12:30, people put on rain pants, wheeled away coolers and headed off through the gate in the back fence. Steger hugged someone. "See you after the win!" she said before trying another send-off. "I'm not going to say, 'See you after the win,' because that never works."
Inside, Steger's daughter Kelly ignored the TV over the fireplace and played with her 11-day-old son, Will, who wriggled with his eyes closed as women wandered in to admire him.
Her husband, who "likes to watch the games and scream at the TV," texted her from his stadium seat. The game stank.
It was easier to have fun at her parents' house. "You come here, you're warm," she said. "You've got food. You can still watch it and hope."
Even though the Bills were losing, her mother wasn't in the house as she had threatened to be.
She was out in the garage, where people without game tickets watched a flat-screen TV and ate from a buffet table spread with dips, ribs, chicken and a crock-pot with her hamburger soup. Her husband refilled cups from the fridge he stocked with an "apple pie" concoction of vodka-spiked cider he had simmered with cinnamon the night before.
"Come on! Damn it," she said, as the Jets completed a pass.
"Oh no!" she said as the Bills got a penalty.
"They just need two touchdowns," she said. "We're always the optimists—at least until game eight."
Another Jets touchdown. "Now we've got a problem," she said. "But it's only the third quarter."
And then, "Oh my God. That's not another touchdown!" When the end came, it was 38-14. Steger was exasperated.
"Honestly, they lose a couple more games, I won't be doing this," she said, drawing a line in the sand well before Sunday's 36-26 loss to the Jacksonville Jaguars.
Then, she covered her face and laughed at her bluster.
She'd had a good time with her children, old friends and the ones she only saw at game parties. She had a special blend of seasoned garlic salt from one. She also got an extra visit with her new grandson.
And, like the 20 points the Bills once scored in 77 seconds in a 1990 game, anything could happen at the next one. She might just have another party.