My 2003 story about Patti Novak's dating service led to a television series built around the Buffalo matchmaker and her clients.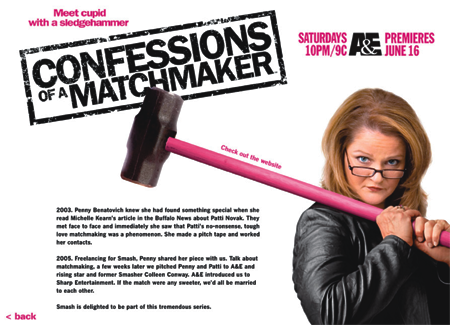 WEB PROMOTION about the reality TV show "CONFESSIONS OF A MATCHMAKER" inspired by my print story MIX 'N' MATCH.

PROMOTION COPY READS:

2003. Penny Benatovich knew she had found something special when she read Michelle Kearn's article in the Buffalo News about Patti Novak. They met face to face and immediately she saw Patti's no-nonsense, tough love matchmaking was a phenomenon. She made a pitch tape and worked her contacts.
2005. Freelancing for Smash, Penny shared her piece with us. Talk about matchmaking, a few weeks later we pitched Penny and Patti to A&E and rising star and former Smasher Colleen Conway. A&E introduced us to Sharp Entertainment. If the match were any sweeter, we'd all be married to each other.
Smash is delighted to be part of this tremendous series.